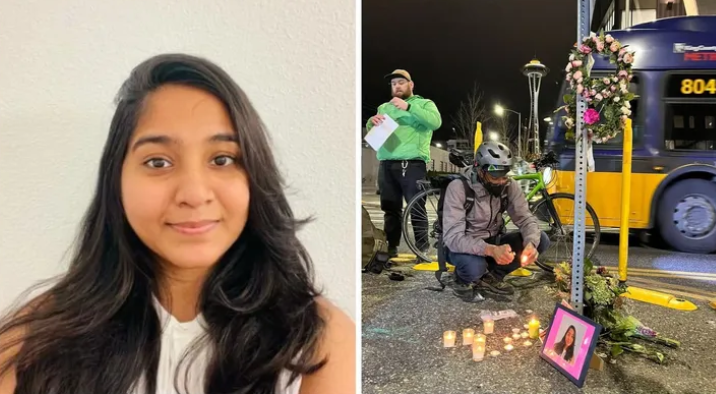 Jaahnavi Kandula (L), a photo of her surrounded by flowers, at the intersection where she was mowed down by Officer Kevin Dave (R) / (Image-GoFundMe)
Indian-origin student Jaahnavi Kandula who died after being hit by a Seattle Police officer's car, earlier this year is back in the news again. On September 13, the Seattle Police Department released shocking bodycam audio footage where Kandula's life was devalued and her death  mocked.
U.S. Rep Pramila Jayapal and the Indian Consulate in San Francisco have sought accountability and a probe into the incident.
Officer Kevin Dave is the accused who was behind the wheel of the vehicle that hit Kandula while she was crossing the road on January 23, 2023, after which she died at the hospital. Officer Daniel Auderer, vice president of the Seattle Police Officers Guild (SPOG) was assigned to investigate if Dave was under any external influence.
Auderer's body camera was running when he called SPOG president Mike Solan to dismiss any implication that the officer might be at fault. He was heard laughing during the conversation, even suggesting that a criminal investigation was not necessary.
At one point Auderer said, "Yeah, just write the check… Eleven thousand dollars. She was 26 anyway," adding, "she had limited value." On realizing that his body camera was left running, Auderer self-reported the incident. He has denied making a mockery of Kandula's death.
Auderer said his laughter was directed at the "ridiculousness of how these incidents are litigated and the ridiculousness of how… these incidents play out as two parties bargain over a tragedy," as per a KTTH report.
A statement posted recently by SPD chief Adrian Diaz stated that bodycam audio came to light after another officer heard the tape, and not because Auderer had reached out to the authorities about it, the Seattle Times reported.
Reacting to the released audio, Rep Jayapal took to X, formerly Twitter, to call the incident appalling. " I hope to see justice for Jaahnavi Kandula's family and accountability for those involved," she wrote.
 The Indian consulate in San Francisco tweeted that the reports about the handling of Kandula's death were "deeply troubling." The agency demanded a thorough investigation and action against those involved in the case and further added that the Consulate and Embassy will continue to closely follow up on the matter with the concerned authorities.