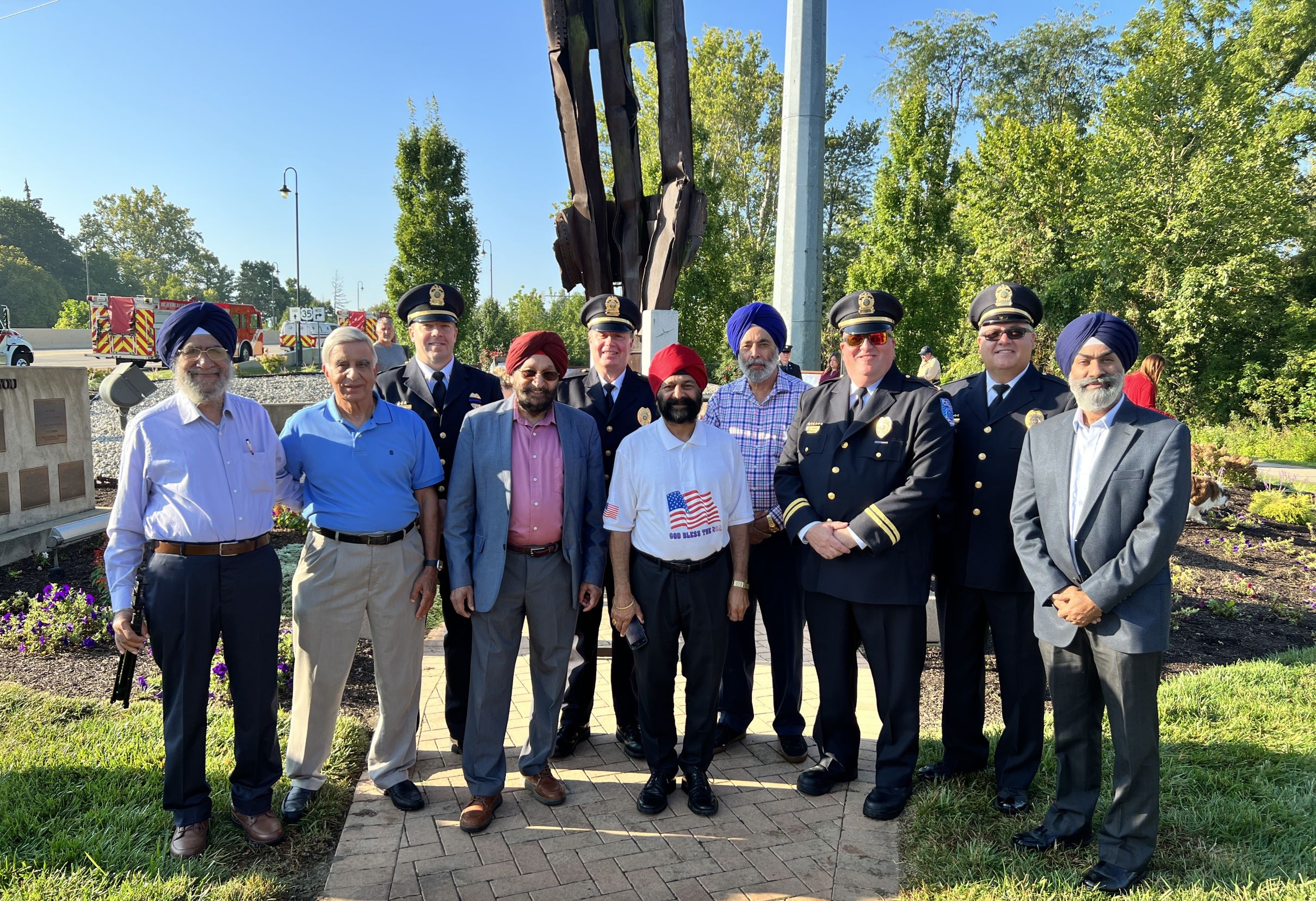 Sikh community members with city Police and Fire department / Sameep Singh Gumtala
On the 22nd anniversary of the terrorist attacks on the World Trade Center (WTC) in New York and the Pentagon, Sikh Americans in Dayton, Ohio, USA, gathered with hundreds of other community members to remember the victims of those attacks. 
The Beavercreek Police Department held their annual 9/11 memorial ceremony at the city's 9/11 memorial, paying respectful homage to the lives lost and the sacrifices made on that fateful day.  Over 2600 people lost their lives in and around the WTC towers, and an additional 184 people lost their lives at the Pentagon and 40 people lost their lives in a plane crash in Pennsylvania as a result of the attacks. 
Four planes flew over the 9/11 Memorial as wreaths and flowers were laid out, taps were played, the American flag was lowered, and the National Anthem was sung. In his memorial address, Beavercreek Mayor Bob Stone urged the crowd to remember the event's victims and the heroes who risked their lives to save them. It was crucial, he said, that this tragedy be never forgotten. 
National Anthem being played with lowered flags at the memorial service.
Sameep Singh Gumtala, a member of the Sikh Society of Dayton and a local activist, said that a 25-foot twisted piece of steel from the North Tower of the World Trade Center can be seen at the Beavercreek 9/11 Memorial. Two Ohio Task Force One firefighters who assisted with rescue efforts at Ground Zero in New York brought this meaningful artifact back to their hometown of Beavercreek.  
On behalf of the Sikh Community, Gumtala emphasized that its presence at the memorial was a shared tribute to all the men and women who tragically lost their lives on that fateful day. This included the brave firefighters, police officers, and paramedics who made the ultimate sacrifice while performing their duties. 
Dr. Charanjit Sing Gumtala, Dr. Darshan Singh Sehbi, Avtar Singh Springfield, and Parminder Singh Bassi were among the Sikh Society of Dayton members who attended the memorial service. 
In addition to remembering the 9/11 victims, members of the Sikh community remembered Balbir Singh Sodhi, a tragic victim of a post-9/11 hate crime. Four days after the attacks, Sodhi was gunned down in front of his gas station in Mesa, Arizona. The murder was motivated by prejudice against the Sikh community. 
The attack was the first fatal act of racism in the United States since September 11, and it sparked a disturbing wave of discrimination and bigotry against people of Sikh, Muslim, and South Asian descent. All Americans were profoundly affected by the events of 9/11 in a variety of ways, Gumtala maintained.