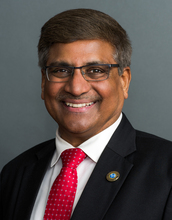 Dr. Sethuraman Panchanathan, Director of the US National Science Foundation / Image- NSF
In an effort to promote innovation and research across the United states, Dr. Sethuraman Panchanathan, Director of the US National Science Foundation (NSF) is devising novel and effective approaches to close the gap in research and innovation funding that exists across the states. The Indian American was nominated to the office in 2019 by the President and was confirmed by the Senate the following year. 
Since taking office Dr. Panchanathan has implemented strategies to ensure that innovation and research occur evenly across states. "Currently only 15 states contribute to 76 percent of domestic value addition of tech industries," the director said in an exclusive interview with New India Abroad. 
"Leveraging and unleashing knowledge across the nation is the direction we have to move in. The most pressing need is to create an ecosystem across the nation that ensures that all states contribute to innovation," he added.
In that direction, NSF established a virtual research office with well-connected resources to help people with writing the best grant proposals, developing ideas, writing research papers, engaging in technology transfer activities, and more. The offices cater to areas across the nation that lack an environment that nurtures curiosity and builds ideas that can lead to innovation. 
"Impressively within 3 months of announcing the call for applications for funding this spring, we received 700 concept papers. We funded 44 of them covering 45 states. There are million-dollar priming the pump kind of projects. More than half of the recipients are first-time receivers of NSF grants," Dr Panchanathan said of the project's success. 
Speaking of bilateral collaborations and competition, the director maintained that it is good to have competition as it helps us grow our potential. In this regard, NSF collaborates with other countries by partnering and funding projects. The organization's collaboration with India is seeing a positive upswing, the director remarked.
 "Last year we funded 45 projects in India. We work with the Department of science and Technology and the Information technology department. With the Biotech department more announcements are expected soon," he revealed.
 According to him , the two strands of NSF's DNA are driven by curiosity-based explorations, and use-focused, solution-based research activities. To accomplish its mission, the foundation's funding to the tune of about 10 billion USD is available to all forms of institutions, K-12, Community, colleges, minority serving institutions, rural area education institutions and so on in all the 50 states, the director said. 
Additionally, the foundation is engaging the corporate world to align with its mission. In the last three NSF years launched about 25 AI institutes with an investment of about 20 million each in partnership with big corporations like Intel, Google, Amazon Accenture. Global competition is happening like never before, Dr. Panchanathan shared, adding that NSF also invests heavily in social behavioral and economic studies.