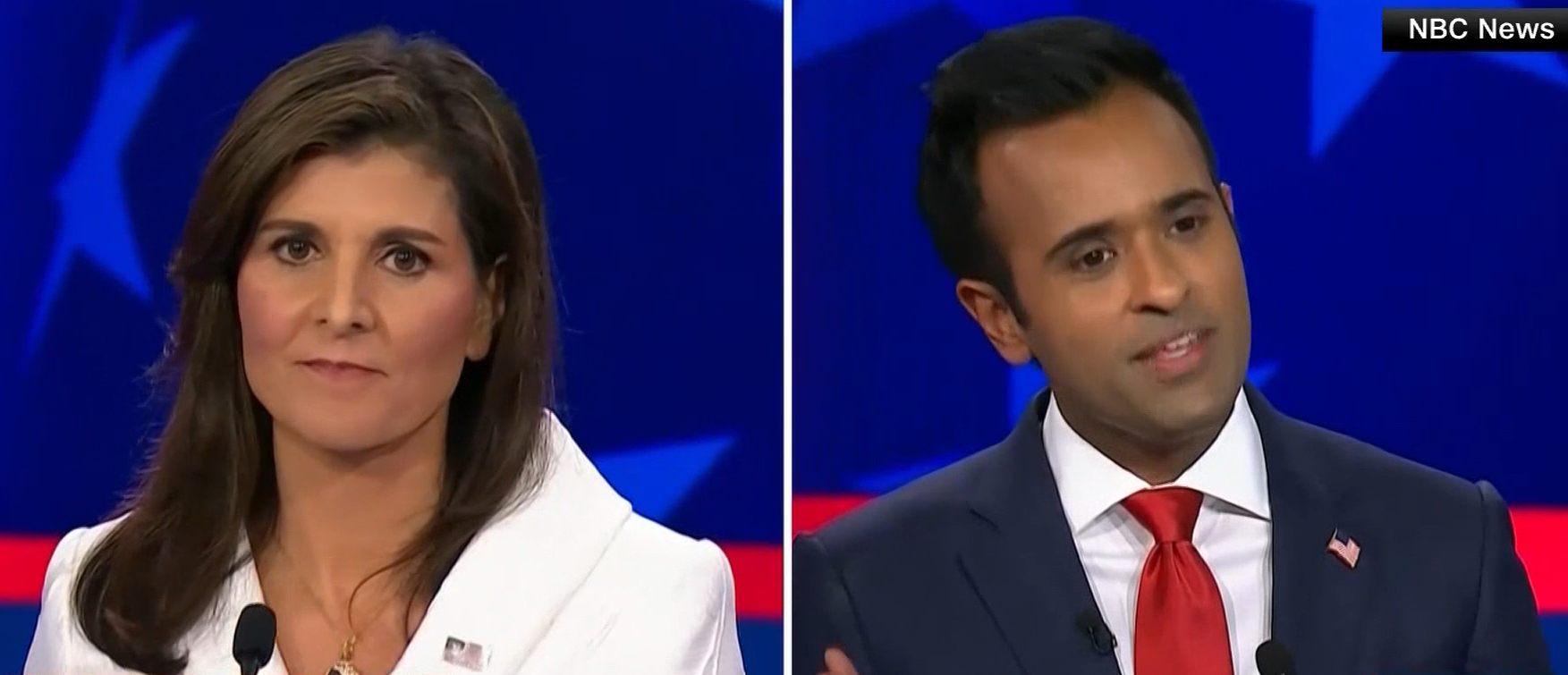 Republican Presidential candidates Nikki Haley and Vivek Ramaswamy fiercely sparred on the Republican Presidential debate stage Nov. 8 evening. / (screenshot)
Republican presidential candidate Vivek Ramaswamy viscerally attacked opponent Nikki Haley Nov. 8 at the third Republican presidential debate, held in Miami, Florida.
The former South Carolina Governor and UN Ambassador has made enormous gains in her polling numbers, tying with Florida Governor Ron DeSantis for second place behind former President Donald Trump. A new Des Moines Register/NBC News poll released Oct. 30 shows Haley and DeSantis each polling at 16 percent, with Trump at an overwhelming 43 percent. Ramaswamy, a biotech entrepreneur, now trails at just 4 percent, 3 points behind South Carolina Senator Tim Scott.
Trump once again did not show up for the third debate. DeSantis, Haley, former New Jersey Governor Chris Christie, Ramaswamy, and Scott scaled back their attacks on the missing candidate, who is currently undergoing a federal trial for potential improprieties in his financial dealings.
Haley, who has an accounting degree from Clemson University and worked in her family's clothing business before starting her political career received early applause as she said in her opening remarks: "We need an accountant in the White House."
"We are almost $34 trillion in debt. 64 percent of Americans live paycheck to paycheck. 50 percent can't afford diapers and a third cannot pay their utility bills…Let's pay down that debt, and start focusing on what makes America strong," she said.
Highlighting the results of the Nov. 7 election, in which Republicans overwhelmingly lost in three key state races, as voters tacitly stated their support for abortion rights, Ramaswamy opened by saying, "We've become a party of losers. We got trounced last night."
He called for Republican National Committee chairwoman Ronna McDaniel to immediately resign. The candidate also bashed the only female moderator, Kristen Welker, who joined NBC news anchor Lester Holt and radio host Hugh Hewitt. "This media rigged the 2016 election. It's actually about you, Kristen, and the media establishment," said Ramaswamy, accusing the moderator of NBC's Sunday morning news show "Meet the Press" of misinformation.
In one of the most contentious moments of the two-hour debate, Ramaswamy attacked Haley's calling him out for using the Chinese social media app TikTok, noting that Haley's daughter herself uses the app. "You might want to take care of your own family first," he sneered.
"You leave my daughter out of your voice," said Haley furiously. As Ramaswamy continued his rant, to loud boos from the audience, Haley muttered under her breath: "You're just scum."
Ramaswamy took on Haley within the first 10 minutes of the debate, characterizing her as a "Boeing multimillionaire." "Do you want a Dick Cheney in 3 inch heels?" he asked, referring to President George Bush's Vice President, often characterized as a warmonger for urging the US to invade Iraq in 2002, shortly after the 9/11 terrorist attacks.
Haley parried back. "They are five inch heels and I don't wear them unless I can run in them." She characterized her choice of shoes as armor.
Post-debate pundits accused Ramaswamy of being misogynistic for his attacks on Haley, Welker, and McDaniel.
All candidates on the debate stage stated their support for Israel amid the current Israeli-Hamas conflict. Haley blamed Iran and Russia for allegedly supporting Hamas' Oct. 7 surprise bombing of Israel. The conflict has killed more than 10,000 people since it began 31 days ago.