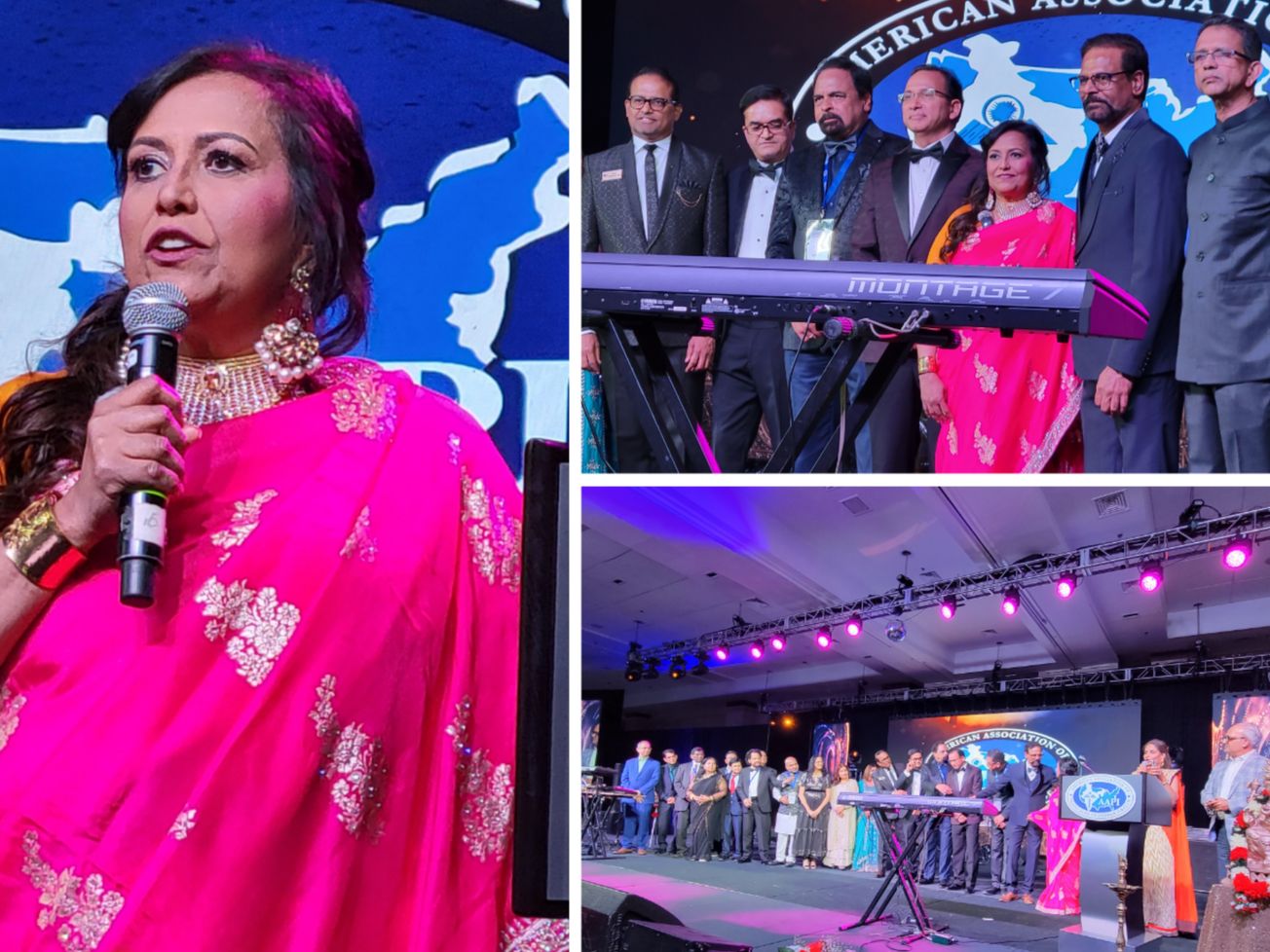 The four-day annual American Association of Physicians of Indian Origin (AAPI) Convention and Scientific Sessions concluded on July 9, 2023 at the Marriott Downtown in Philadelphia, with the new leadership of AAPI assuming charge under the leadership of Dr. Anjana Samadder.
In her presidential inaugral address, Samadder said, "I am committed to your well-being and dedicated to advancing AAPI's mission for a brighter future." The new team comprises of Dr. Satheesh Kathula the president-elect; Dr. Amit Chakrabarthy the vice president; Dr. Sumul Raval the secretary; Dr. Sreeni Gangasani as the treasurer; and Dr. Lokesh Edara as the chair of the Board of Trustees.
A Ohio-based gastroenterology specialist, Dr. Anjana Samadder is the spouse of AAPI's past President, Dr. Gautam Samadder. She is affiliated with Mount Carmel West and Mount Carmel East and is a winner of the Gastrointestinal Surgery Excellence Award.
Dr. Ravi Kolli, Immediate past President of AAPI spoke about the origins of AAOI 41 years ago and how the physicians of Indian origin have been sought after for their excellence in Medicine. "We all should be proud of our heritage and our dedication to our patient care and our successful transition from one to another world and being a role model and almost model citizens in the United States," Dr. Kolli said. In his farewell address, Dr. V. Ranga, immediate past Chair of the BOT, "AAPI is stronger and in safer hands."
During the convention, Dr. Prem Reddy was honored with the Special Presidential Appreciation and Achievement Award for his leadership, entrepreneurship, and philanthropy. Dr. Ranga Reddy, past AAPI president was conferred with the Lifetime Achievement Award. A host of other physicians were also recognised with awards for their dedication to the medical field and philanthropy.
The convention featured CMEs with accredited courses as well as a variety of panel discussions, presentations and a research and poster competition.  Dr. Sreeni Gangasani, AAPI CME chair and Dr. Brahma Sharma, AAPI Convention CME chair, lead the CME program to provide the highest level of intellectual talks for AAPI delegates. Additionally, a Women's Forum led by Dr. Udaya Shivangi, a CEO Forum moderated by Dr. Achintya Moulick featured eminent leaders from the business, healthcare and technological industries, who shared their valuable insights on a variety of matters.
The event also included AAPI's Got Talent, organized by the AAPI physicians, was an opportunity for the delegates at the convention to participate and compete in a talent show led by Dr. Amit Chakrabarty and Dr. Seema Jain. The grand finale saw performances by Bollywood artist Mika Singh And Mehfil & Khaas.