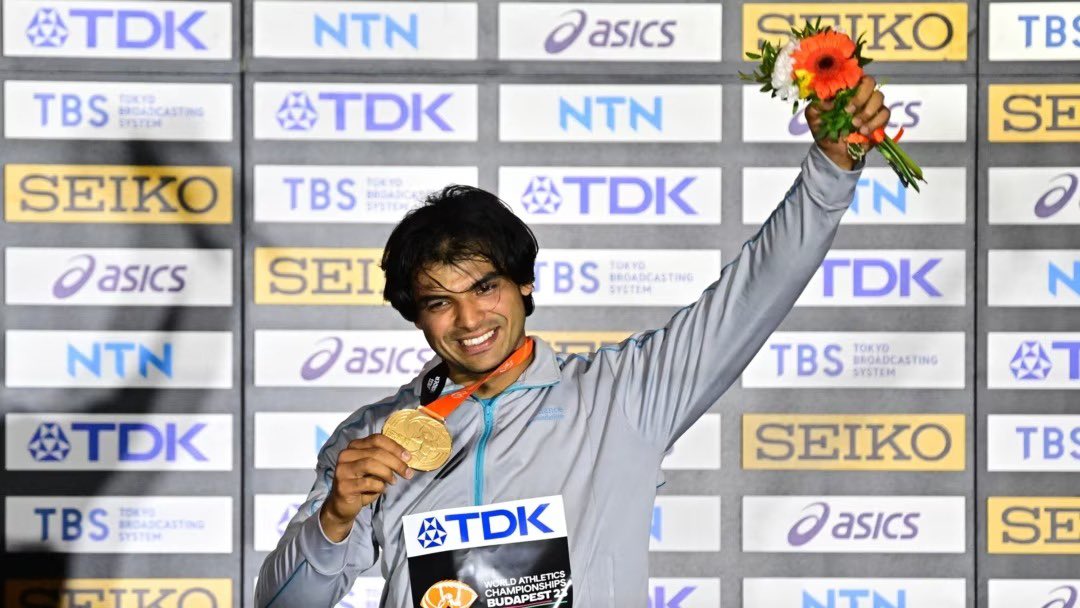 Neeraj Chopra / Image-X/@Neeraj_chopra1
Ten years ago, no one would have imagined an obese rural boy  from a village in Panipat in Haryana would be hawking global headlines for his sporting prowesses. And here is he, who until a couple of years ago,  was a non commissioned officer in Indian Army. Today he stands tall among members of Indian sports fraternity.
He is none other than Neeraj Chopra, an icon of Indian sports. He is the first ever athlete in the history of Indian sports to have won gold medals in all major international sporting events, including from South Asian Games to Commonwealth Games, from Asian Athletics Championship to World Athletics Championship, and from Asian Games to Olympic Games.
He is 25 and is raring to at the ensung Asian Games in Hangzhou next month and the 2024 Paris Olympic Games. In the just concluded World Athletis Championship in Budapest, he hurled the javelin to a distance of 88.17 metres to win the gold medal. He has thus become the first Indian athlete to win a gold medal in the World Athletics Championship. Incidentally, he is the second Indian sportsman after shooter Abhinav Bindra to complete a rare double - Olympic Gold and World Championship gold. Neeraj has now in his precious collection gold medals he has won in the World Athletics Championship (2023), Olympic Games (Tokyo 2020), Diamond League (2022), Asian Games (2018), Commonwealth Games (2018), Asian Championship (2017) and South Asian Games (2016).
Besides, he had won a Silver in the last World Athletics Championship in 2022. The only other Indian to win a medal in the World Athletics Championship has been Anju Bobby George. She won the country's first ever medal in World Athletics in Paris in 2003 when she was placed third in the women's long jump event. Since then, India has won two more medals in the World Athletics Championships. And both have gone to the kitty of Neeraj Chopra - a silver in 2022 and now a gold in 2023.
His gold medal triumph is all the more credible as Neeraj Chopra has recovered from injuries and returned to active athletics after a long lay off. Incidentally, javelin event this time was dominated by Asians in Budapest. As four of the top six positions went to Asians. Nadeem Arshad of Pakistan finished a close second with a best throw of 87.82 while two other finalists from India - Jena and Manu finished fifth and sixth, respectively with throws of 84.77 and 84.14 m. Good going for Asia in general and India in particular.
(Story from 5WH)