The ambassador to India made the comments at the 247th U.S. National Day celebration event in Mumbai on August 3, 2023.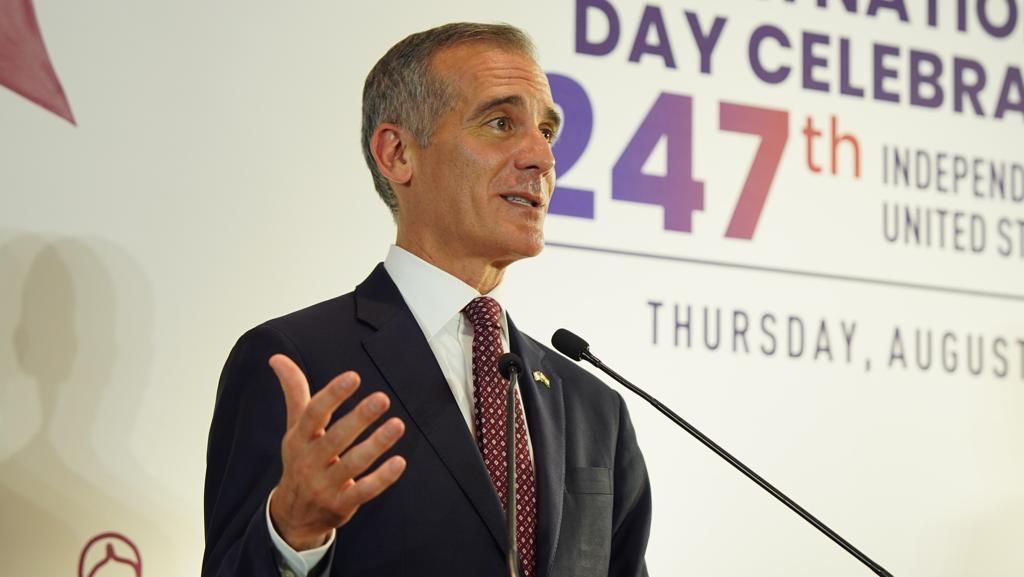 The 26th U.S. Ambassador to India, Eric Garcetti, recently spoke about having fun at his job during a celebration of the 247th U.S. Independence Day celebrations held at the U.S. consulate in Mumbai.
"​I have to say, it is the most fun job I have ever had in my entire life. I'm going to eat my way through India. I'm going to advance my way through India. But more importantly, together with you, we are going to write a new chapter on US-India relations," Garcetti said at the event, introducing himself as U.S. President Joe Biden's ambassador to India.
I​n his speech, the envoy acknowledged that the U.S.-India ties date back to decades and the closeness between the leaders of both countries reflects the "closeness of our people."
Maharashtra CM Eknath Shinde attended the event. Image - Twitter/@USAndMumbai
G​arcetti met Maharashtra Chief Minister Eknath Shinde at the event, which was attended by prominent personalities and leaders. He also paid tribute to Maitri Shah, founder of a tech startup with a "focus on integrating persons with disabilities with mainstream society," at the event.
The event was replete with "inspiring words by women leaders, great music, delicious food, and the joy of celebration," as per a Twitter update by the consulate.

https://twitter.com/USAndMumbai/status/1687161744534421504?ref_src=twsrc%5Etfw%7Ctwcamp%5Etweetembed%7Ctwterm%5E1687161744534421504%7Ctwgr%5E1ff4c81d5ba177d0e0874c46fd689b4962901214%7Ctwcon%5Es1_&ref_url=https%3A%2F%2Fwww.newindiaabroad.com%2Fmost-fun-job-eric-garcetti-on-being-u-s-ambassador-to-india%2F