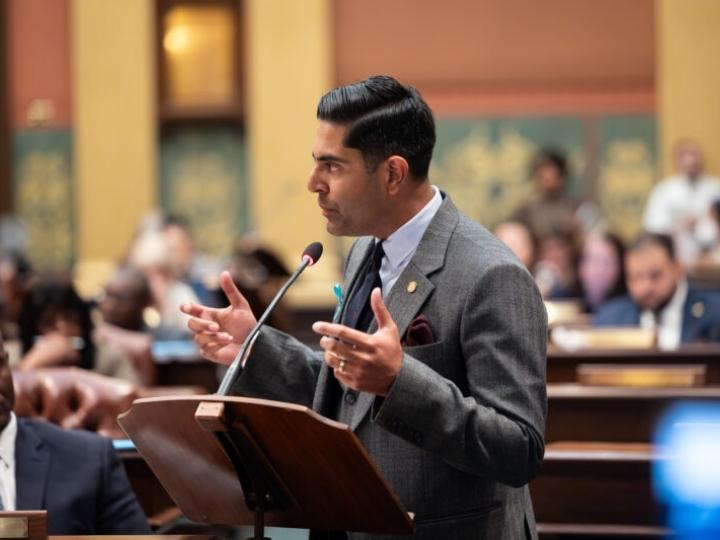 State Rep. Ranjeev Puri (D-Canton) speaks on bills establishing religious and cultural observances as state holidays on Wednesday, Sept. 13, 2023, at the state Capitol in Lansing. / (Image - Michigan house democrats)
Michigan state bill 4446 and bill 4449 which declare Diwali and Vaishaki as State Holidays, introduced by Indian American state representative, Ranjeev Puri, have officially been passed by the state house on September 13.
Puri wrote on social media platform X, (formerly Twitter) saying "I am so excited to announce that the House passed out bills today that will designate six new state holidays in celebration of our state's rich cultural diversity. My bills would designate Diwali and Vaisakhi as official state holidays in the state of Michigan."
Declaring that the bill has been passed, the house said in a media note, "The House of Representatives passed a package of bills today acknowledging the rich diversity of cultures and religions that Michiganders celebrate and observe."
"Cultural diversity helps Michigan flourish and grow. By making sure these holidays are on the state's calendar, we're recognizing the many beliefs, celebrations and communities that make our state strong," said Puri. "Together, we are creating a more welcoming, inclusive Michigan that accepts people of all backgrounds and beliefs," he added.
House Bill 4446 makes Diwali a state holiday. Diwali is a Hindu religious holiday that commemorates the triumph of light over darkness, good over evil, and knowledge over ignorance. This festival lasts five days, and is celebrated by people from all around the world.
Meanwhile, House Bill 4449 declares the Sikh festival, Vaisakhi a state holiday. It is a spring harvest festival celebrated by both Hindus and Sikhs with festivities, time spent with friends and family, and gift-giving.
The other festivals included in this package include Eid al-Fitr, Eid al-Adha, Lunar New Year, Rosh Hashanah, and Yom Kippur.