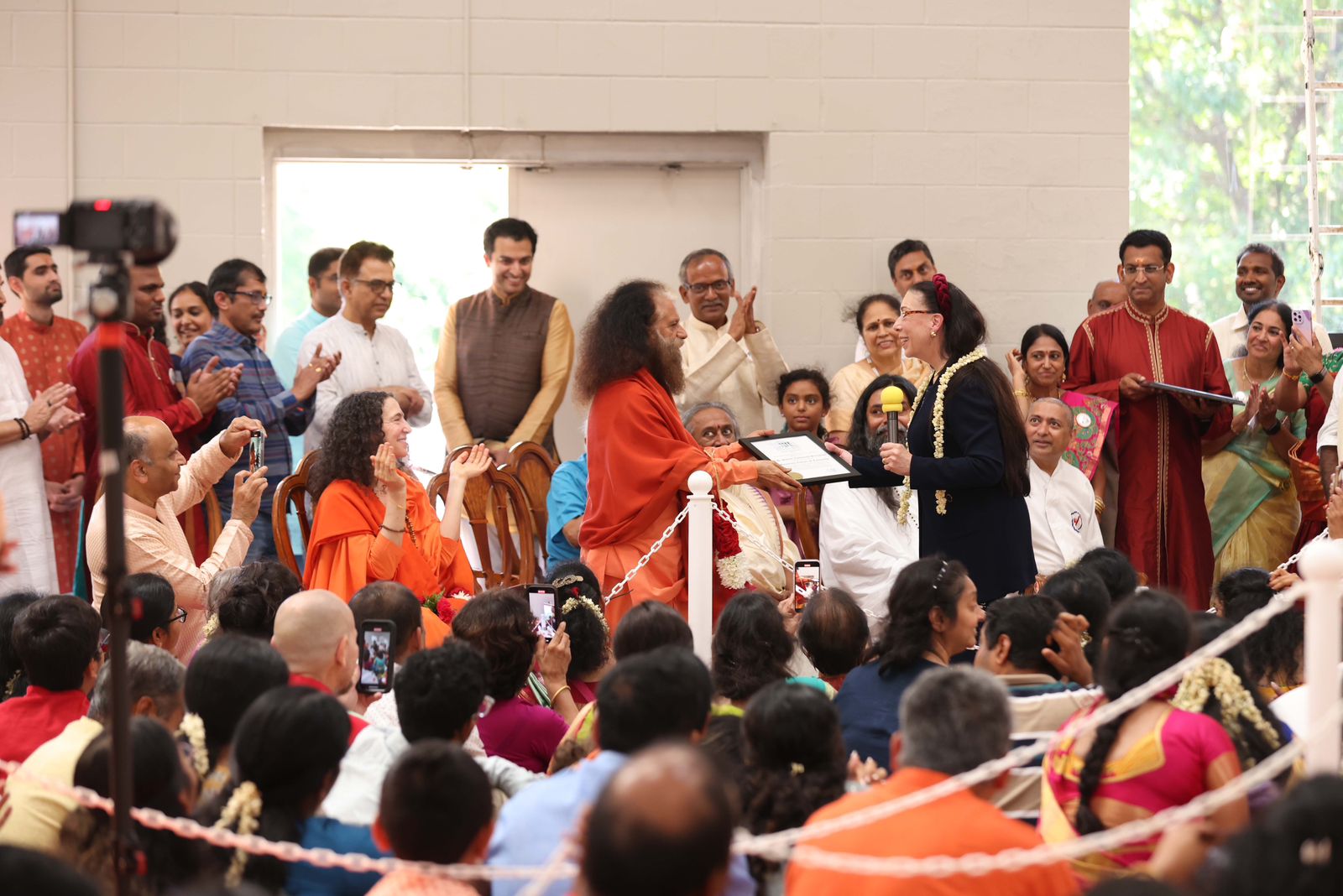 Deputy Mayor of Louisville presenting the proclamation / Image - Supplied
In a major win for the Hindu community of Louisville, Kentucky, Mayor Craig Greenberg issued a proclamation declaring September 3 as Sanatan Dharma Day in the city. The historic announcement was made during a huge event celebrating the Maha Kumbha Abhishekam at the Hindu Temple of Kentucky in Louisville
Swami Chidanand Saraswati, president of Parmarth Niketan, Rishikesh, Sri Sri Ravi Shankar and Sadhvi Bhagawati Saraswati, along with several other spiritual leaders and dignitaries including  Lt. Governor Jacqueline Coleman, Deputy Mayor Barbara Sexton Smith, Deputy Chief of Staff Keisha Dorsey were present on the occasion.
(Caption- Special guests at the event. Image-Supplied)
The Deputy Mayor of Louisville, Barbara Sexton Smith, read the proclamation on behalf of the Mayor. "The declaration is a testament to not only the spiritual significance of the Maha Kumbha Abhishekam event but also to the great, positive impact that the Hindu community has had in Louisville, in Kentucky and across the United States," a news release stated.
On receiving a 11-volume Encyclopedia of Hinduism (a project conceived, led, and guided by Swami Chidanand Saraswati), as a gift, former Louisville Mayor Greg Fisher proclaimed July 20 as "Encyclopedia of Hinduism" Day in Kentucky. 
The leaders of the temple began the Maha Kumbha Abhishekam by ascending to the temple's rooftop, where they showered the deities with holy water and flowers. On the occasion, Sri Sri Ravi Shankar explained the significance of each of the elements offered in the puja – the fire, the water, the flowers, etc.  
(Caption- Temple Leaders and special guests performing Maha Kumbha Abhishekam. Image- Supplied)
He emphasized the importance of bringing spirituality into our daily lives and truly understanding how these rituals infuse our lives with purpose and meaning. In his remarks, Swami Chidanand Saraswati emphasized the great power and importance of Sanatan Dharma and Sanatan tradition. 
"It is so sad that in India some people are creating such negativity around Sanatan Dharma without realizing or understanding its value and depth, and yet here in America, in Louisville, Kentucky, we are celebrating the great declaration by the Government of a day dedicated to Sanatan Dharma!," Swami said.
The intersection of science and spirituality in Hinduism was emphasized by Sadhvi Bhagawati Saraswati, a Stanford graduate originally from Los Angeles, California who has lived at Parmarth Niketan, Rishikesh for nearly 30 years. She presented studies from Johns Hopkins University showing how spirituality improves our physical well-being in addition to our mental and emotional states. 
After the speeches, the Deputy Mayor of Louisville presented Sri Sri and Swami Chidanand with official certificates of Honorary Citizenship of Louisville. Swami had already been honored with the Key to the City of Louisville and named a Kentucky Colonel, both of which are high honors bestowed by the Commonwealth of Kentucky.