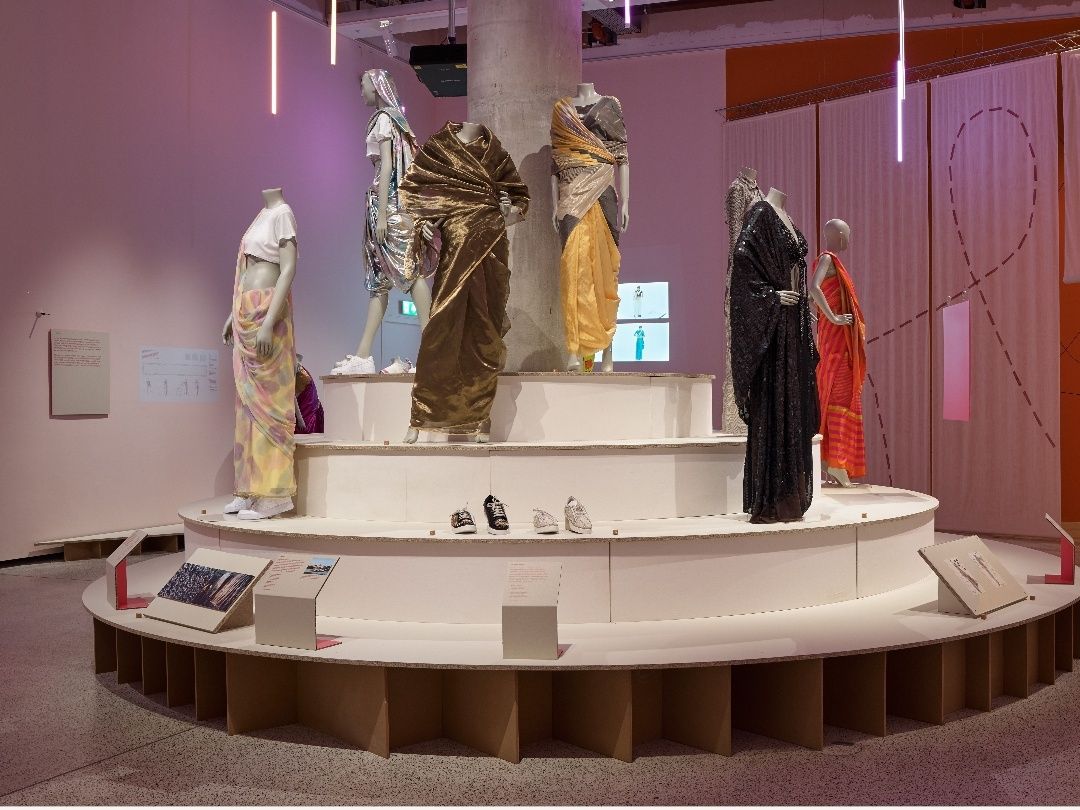 The Design Museum in London is hosting an exhibition centred on the sari, a garment worn by South Asian women. Titled The Offbeat Sari, the exhibition is the first large-scale exhibition in the UK featuring the garment. It will be open for viewing until September 17, 2023.
On display at the exhibition are 60 varieties of saris created using innovative methods including the woven steel sari and another created from distressed denim fabric.  The museum has acquired these saris on loan from designers and studios across India. According to the museum, the garments, never before seen in the UK through various textures, weaves, colours, and drapes, give viewers a glimpse into the constantly evolving sari.
The exhibition comes at a time when the sari is making waves globally. Indian socialite Natasha Poonawalla was counted amongst the best dressed at the 2022 MET Gala as she dawned on the red carpet in a gold-printed tulle sari with a trailing train designed by Sabyasachi, paired with a gold metallic bustier by Schiaparelli couture. Recently, film critic Meenakshi Shedde wore a black-orange-pink combination sari at the 70th Cannes Film Festival for which she received countless plaudits online.
The exhibition aims to highlight the progress that the sari has seen over the years. To present the same, the museum has acquired pieces from exciting labels including Amit Aggarwal, HUEMN, Diksha Khanna and Bodice. Sabyasachi and Anamika Khanna have lent their work to the museum as well. For pop culture lovers, Deepika Padukone's Abu-Sandeep couture sari from Cannes 2022 will be a treat to view. A copy of the foil sari worn by Lady Gaga in 2010 from Tarun Tahiliani's label will also be on display.
"The Offbeat Sari highlights design's role in a huge fashion story that's little-known outside India, providing a site for us to reflect, with our partners and lenders in India, and the South Asian diaspora here, on the impact of India's fashion creativity. Indian textiles have long been explored ethnographically in international museums and we are excited to be presenting cutting-edge Indian fashion to UK audiences in London this summer," said Tim Marlow, the Design Museum's CEO and director.