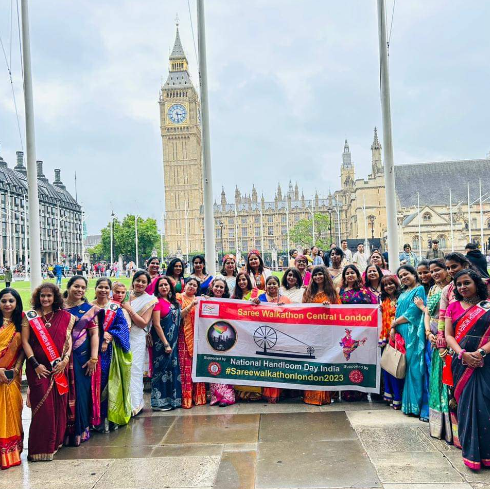 Around 500 women will participate in a first-of-its-kind saree walkathon, to be held in London on August 6 to mark National Handloom Day, to raise awareness about Indian handloom. Handloom day is celebrated in India on August 7.
​The event is organized by the British Women In Sarees (BWIS) ​group, a non-profit that showcase their "pride and patriotism" by being draped in saree, and is supported by the Inspiring Indian Women group. A similar event was held last year by BWIS where women dressed in sarees turned up at the Ladies Day Royal Ascot Races to signify cultural ties between UK and India.
"​The modern Indian woman of today believes in traversing the world beyond her cocoon and she does all that and more, in a saree while redefining the codes of power dressing," Dipti Jain of British Women in Sarees told ukmalyalees.com in an interview.
The 2023 ​walkathon will begin from Trafalgar Square and move to the historic Parliament Square in Westminster, London, via 10 Downing Street. The event will be observed during the annual South Asian Heritage Month that runs from July 18 to August 17 in the United Kingdom. The Indian-origin women will be seen sporting traditional and regional weaves from 16 states of India with an objective to raise awareness of the versatility of sarees, and to promote India's national Heritage as well the "Make in India" movement.