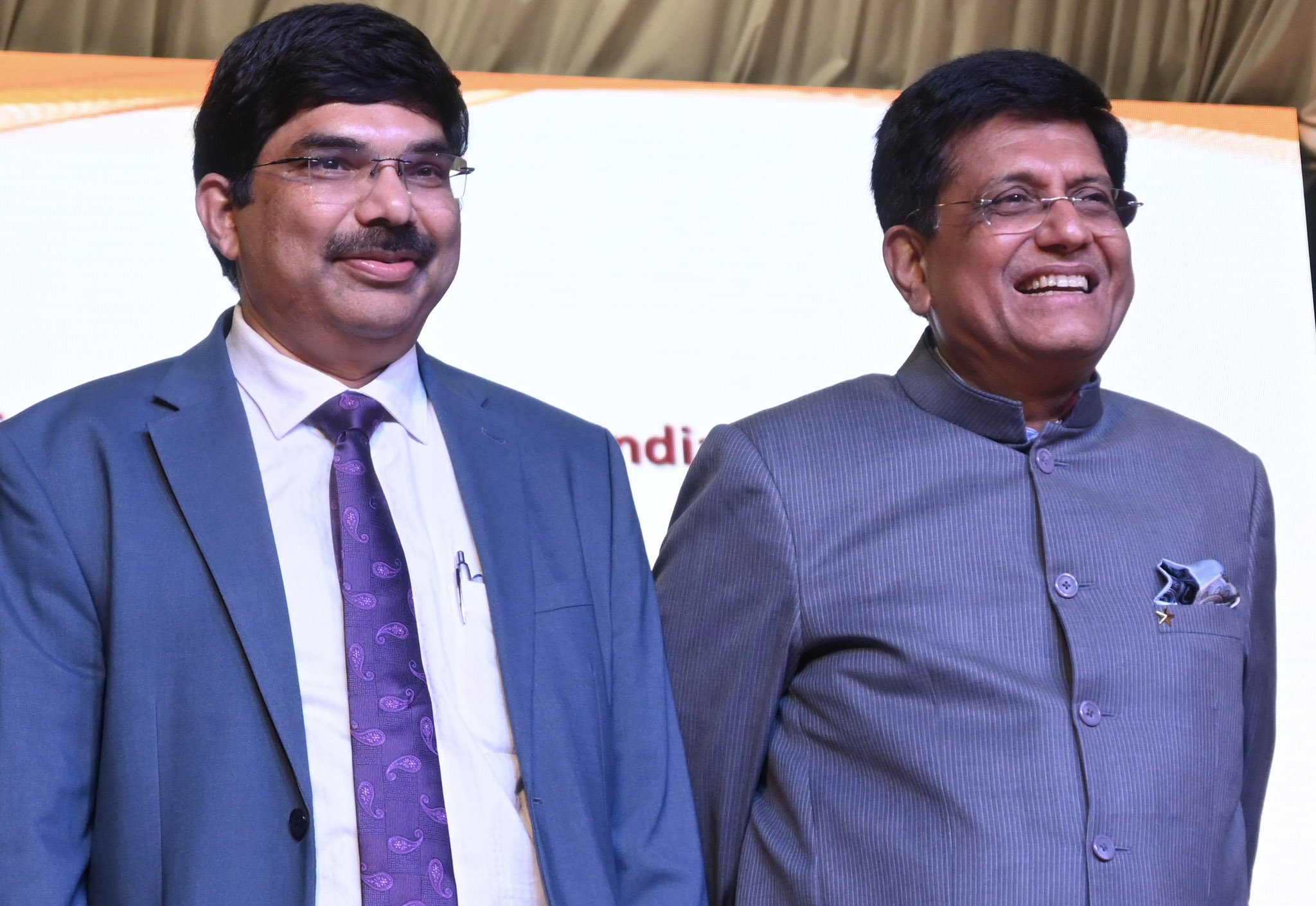 India's Commerce and Industry Minister Piyush Goyal is shown onstage with Indian Consul General Dr. Srikar Reddy, at a Nov. 14 event in Milpitas, California. / (photo by Sunita Sohrabji)
MILPITAS, California — Commerce and Industry Minister Piyush Goyal urged the Indian diaspora here Nov. 14 evening to reach out to their villages to help them prosper in India's growing economy.
The event was organized by the IIT Bay Area Alumni Association, and The Indus Entrepreneurs — TiE — in collaboration with the Indian Consulate in San Francisco. Consul General Dr. Srikar Reddy introduced Goyal to the stage. "India has created an environment for investors from throughout the world," said Reddy as he introduced the guest speaker.
"The US-India relationship would not be so consequential were it not for the diaspora," said Goyal.
"This entire region has shown how technology can transform lives. In India, we have taken your innovations to even our most remote regions," said the Minister, who also gave a nod to Indian American contributions to California's large agricultural economy.
India has grown at about 7 percent per year. Goyal predicted its young, entrepreneurial population would add $30 trillion to the nation's economy over the next 10 years. He added an aspirational goal of growing India's economy — which now sits at about $3.5 trillion — to $35 trillion by 2047. "Our financial markets are well-positioned to embrace this glorious future," he said.
"India today provides an opportunity for investors like never before. Every country around the world has included India in its supply chain. You can trust India to be a reliable partner, said Goyal.
But India's economic growth must include its most marginalized, said Goyal. "Look back at your family. Someone came out of your village and struck gold, to give you the opportunities you now enjoy."
"Go back to your village, your original place, and see the state of affairs there. Engage the children at a school. Identify some talent and give him or her an opportunity to do well in life," said Goyal. "The satisfaction you get from doing that is immeasurable."
He urged the Indian American diaspora residing in the San Francisco Bay Area to cover at least 100,000 of India's 600,000 villages.
Goyal was in the San Francisco Bay Area this week to attend the Asia Pacific Economic Cooperation — APEC — summit, a massive event that brought an estimated 20,000 people from Indo-Pacific countries to discuss growth in the region, including trade deals and collaborations. India is not an APEC country, but is a party to the Indo-Pacific Economic Framework for Prosperity, an initiative launched by the Biden Administration to fast-track trade deals with partnering countries.
Earlier on Nov. 14, Goyal and US Secretary of Commerce Gina led an industry roundtable and officially launched the two countries' ambitious "Innovation Handshake" agenda, which aims to grow technology collaborations between the US and India.
"Through the Innovation Handshake, the United States and India are forging a critical tech partnership that will further strengthen our interconnected innovation ecosystems," said Raimondo. "This is an important step to bolster the U.S.-India commercial relationship and I look forward to building on this progress with Minister Goyal to help U.S. and Indian workers and businesses succeed."
Goyal held a closed-door discussion Nov. 13, organized by Indiaspora. He also attended separate events at Stanford and in Palo Alto, organized by the Institute of Chartered Accountants of India.