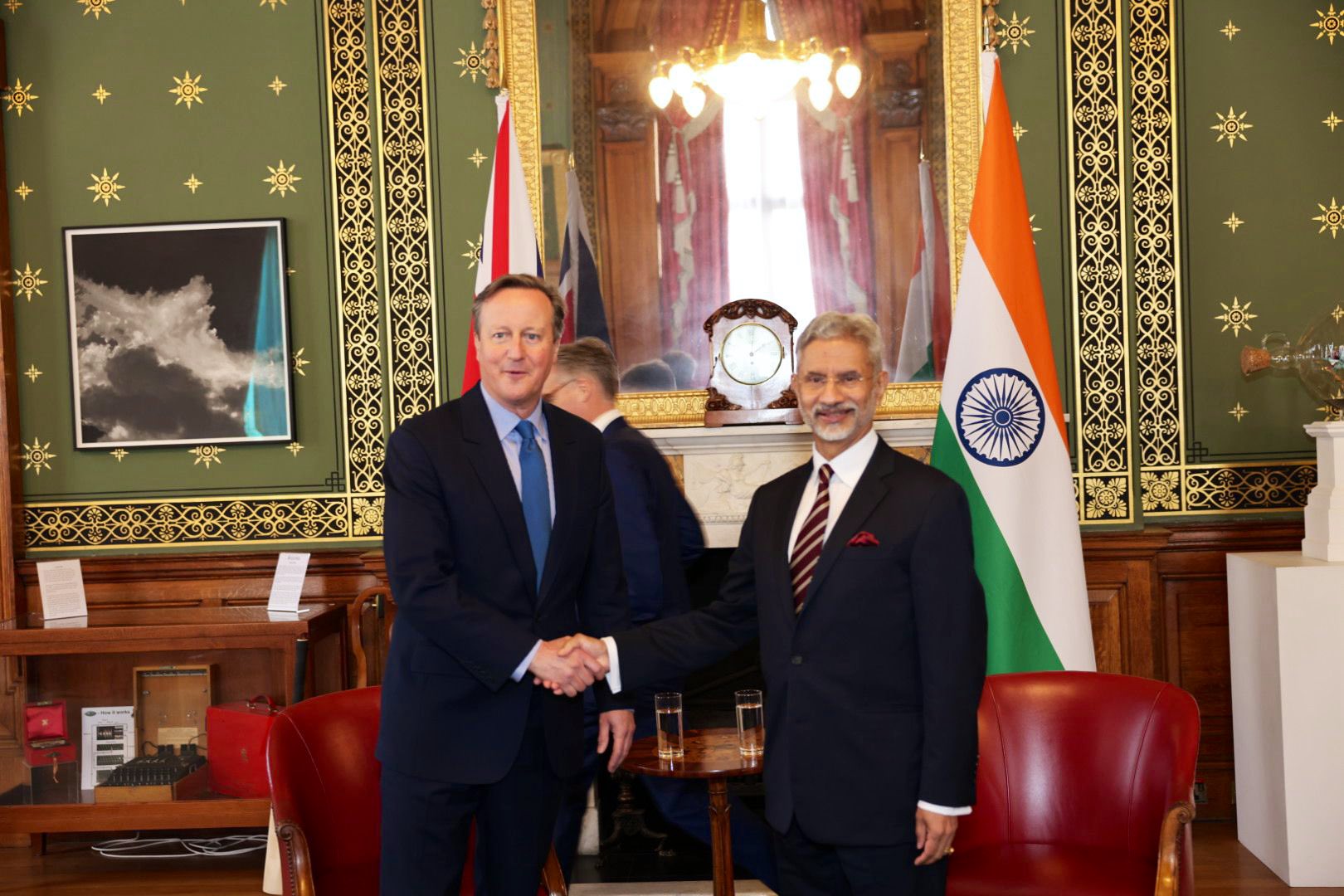 S Jaishankar with David Cameron on his first day of office / X/@DrSJaishankar
Indian External Affairs Minister, S. Jaishankar, engaged in discussions with the newly appointed UK Foreign Secretary, David Cameron, during a meeting in London on November 13. This meeting unfolded against the backdrop of a significant cabinet reshuffle orchestrated by Prime Minister Rishi Sunak.
James Cleverly, the UK's foreign secretary, took over as Home Secretary after the PM fired Suella Braverman, marking Cameron's return to the forefront of the British government.
Congratulating Cameron on his return to frontline politics, Jaishankar expressed optimism about the potential strengthening of the bilateral strategic partnership between India and the UK. The discussions centered on exploring the full scope of the relationship between the two nations.
Jaishankar shared his thoughts on the meeting, stating, "A pleasure to meet UK Foreign Secretary David Cameron this afternoon on his first day in office. Congratulated him on his appointment. Held a detailed discussion on realizing the full potential of our strategic partnership. Also exchanged views on the situation in West Asia, the Ukraine conflict, and the Indo-Pacific. Look forward to working with him closely."
Braverman's removal was prompted by controversy surrounding her remarks on the police's handling of pro-Palestinian marches in London. In an article published in The Times on November 8, she accused the police of double standards, criticizing their alleged leniency towards pro-Palestinian demonstrators whom she referred to as "hate marchers."
The ensuing clashes during the protests resulted in over 140 arrests, mounting pressure on Sunak to remove Braverman from her position, both from opposition lawmakers and within his own Conservative Party. Later, Braverman spoke to The Times again, saying she had "more to say," but in due course of time.
In the aftermath of these cabinet reshuffles, Jaishankar also met with the newly appointed Home Secretary, James Cleverly, on November 12, engaging in discussions about crucial aspects of bilateral cooperation. The leaders exchanged views on shared concerns related to extremism, economic offenses, trafficking, and security.
Acknowledging Cleverly's continued support, Jaishankar remarked, "Met UK Home Secretary James Cleverly this evening. Discussed the importance of mobility, skills, and talent in the development of our bilateral cooperation. Exchanged views on addressing shared concerns on extremism, economic offenses, trafficking, and security. Appreciate James Cleverly's continued support for our strategic partnership."