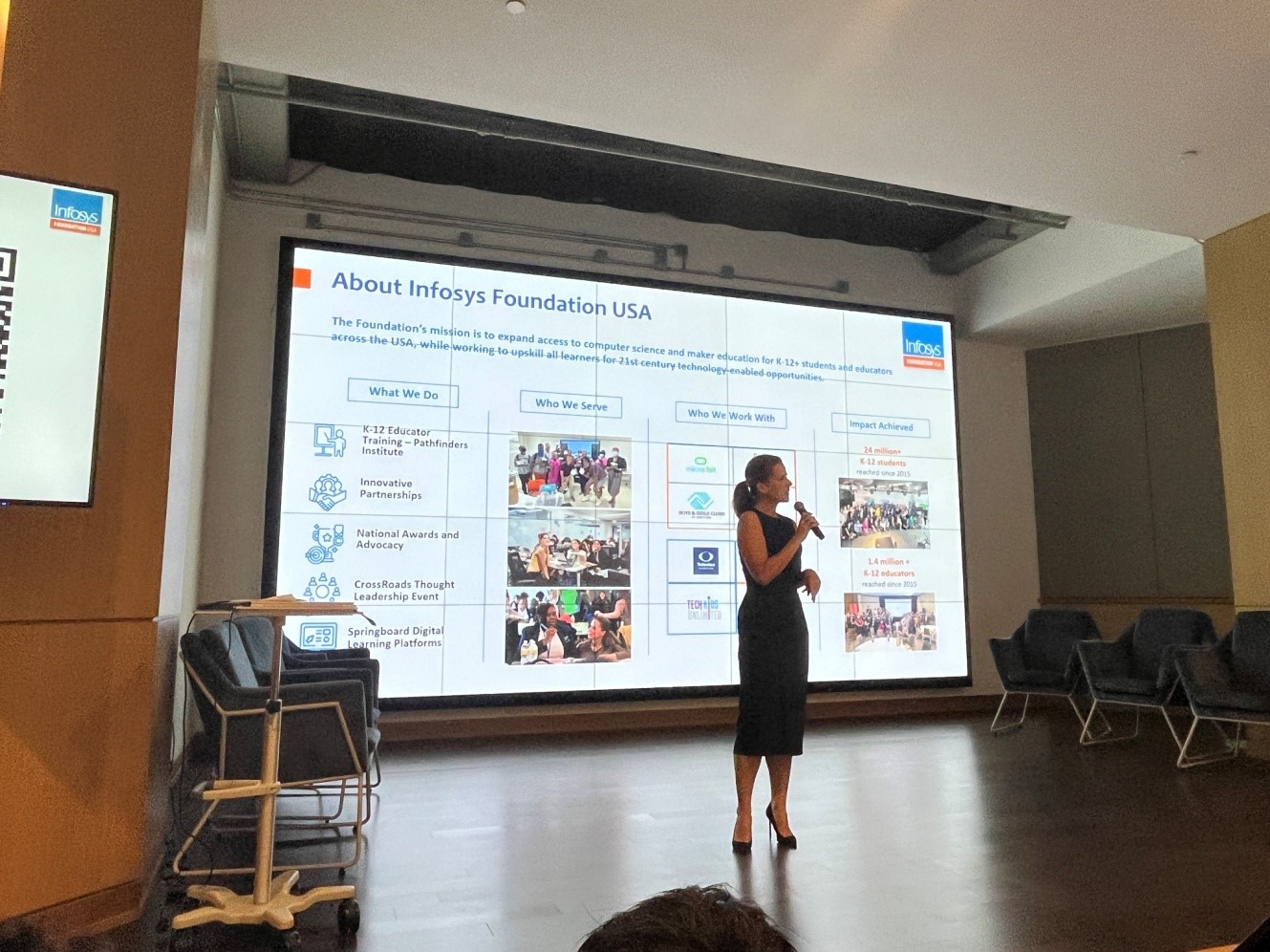 Infosys Foundation USA organized an event to announce investment. Image – X/ Infosys Foundation USA /
Infosys Foundation USA announced a $200,000 investment to support Hoosiers (Indiana) in their pursuit of upskilling for tech careers. This investment will support Mission 41K, benefiting K12 students and post-secondary and professional learners to provide training on upgrading their digital skills.
Commenting on the investment to support Hoosiers tech learning, executive director, of Infosys Foundation USA said, "We're thrilled to now reflect our expanded mission to digitally upskill the future workforce through our partnership with TechPoint, focused on advancing the Mission 41K initiative."
The foundation's funding will be awarded to the Central Indiana Corporate Partnership (CICP) Foundation to support TechPoint, Indiana's industry-led growth initiative for the state's tech ecosystem, as well as partners Nextech and Indianapolis Public Schools (IPS), to expand proven programming statewide and to implement new tech-career programs in central Indiana, according to a release.
The funding aims to add 41,000 Hoosiers to the state's workforce by 2030 and will benefit not only 12 teachers and students but also reach learners post-high school who seek relevant digital skills. This funding will also advance adult apprenticeships for Hoosiers in underserved rural areas. Additionally, the foundation's investment will help to lower the cost of upskilling, enriched by access to over 8,000-course offerings in the latest technology trends and professional skills within the Infosys Springboard USA Digital Academy. 
Announcing the investment, the Foundation said that this investment will support Mission 41K, benefiting not only K12 students but also post-secondary and professional learners, ensuring no one's left behind in the digital future. The grant will also strategically leverage the Foundation's Infosys Springboard USA digital learning platforms for IPS high school students and their educators district-wide – aiming to double participation in tech career pathways over the next two to three years.