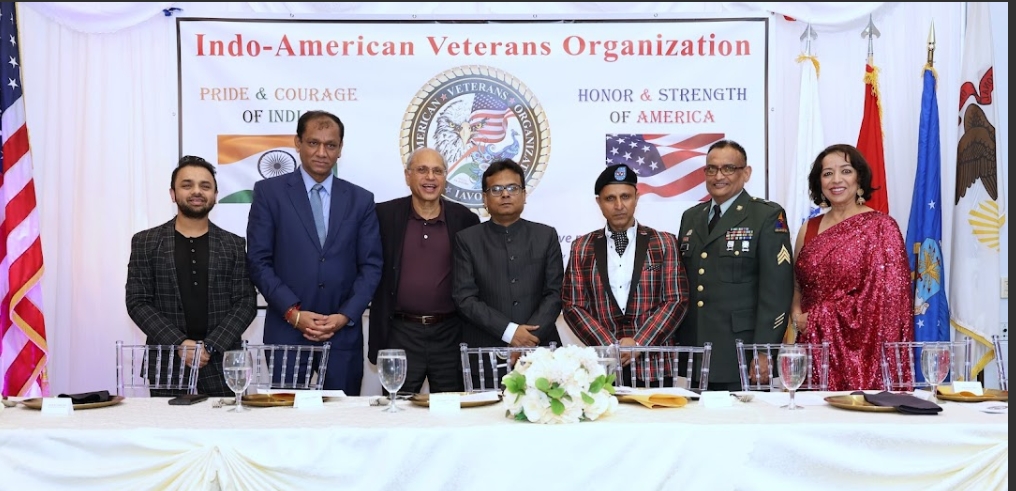 IAVO President with guests at the event / Images - IAVO
The Indo-American Veterans Organization (IAVO) celebrated its second annual charity gala at the Stonegate Banquet and Conference in Hoffman Estate, Illinois. President of the US- India Security Council (USISC), Ramesh Viswanath Kapur, attended the event as the chief guest, while Consul General of India (Chicago), Somnath Ghosh, served as the guest of honor.
Highlighting the significance of an organization such as IAVO, Kapur expressed interest in collaborating with IAVO. "USISC would like to collaborate and create an alliance between USISC and IAVO. IAVO will help us expand our goals because it will have more credibility in helping us, go to the next phase of US- India relationship," he said.
President of the US- India Security Council (USISC), Ramesh Viswanath Kapur addressing the gathering
"Together, we would be able to change the US laws and pass the US-India Security Defense deal within just a couple of years.IAVO has the potential to help keep 350 million Americans safe, and 1.2 billion Indians safe. Today is one of my proudest days of my life, and I really feel proud that Chris has started this organization in the United States of America," Kapur added.
Consul General Ghosh, who had attended the inaugural IAVO charity gala, congratulated the organization for its work and extended his office's support for their mission. On the occasion, he recalled his past experiences, as a key coordinator on defense external issues at the Ministries of Defense, External Affairs, National Security Council Secretariat and the Armed Forces of India.
Founder, chairman and president of IAVO, Chris "Veteran" Aryan, expressed his gratitude to the attendees for their support of the organization and thanked them for attending the gala.
The rest of the event featured entertainment, inspiring speeches, and stories that underscored the importance of the charity's mission.The event concluded with an awards ceremony to recognize the sponsors and donors and an elaborate dinner.