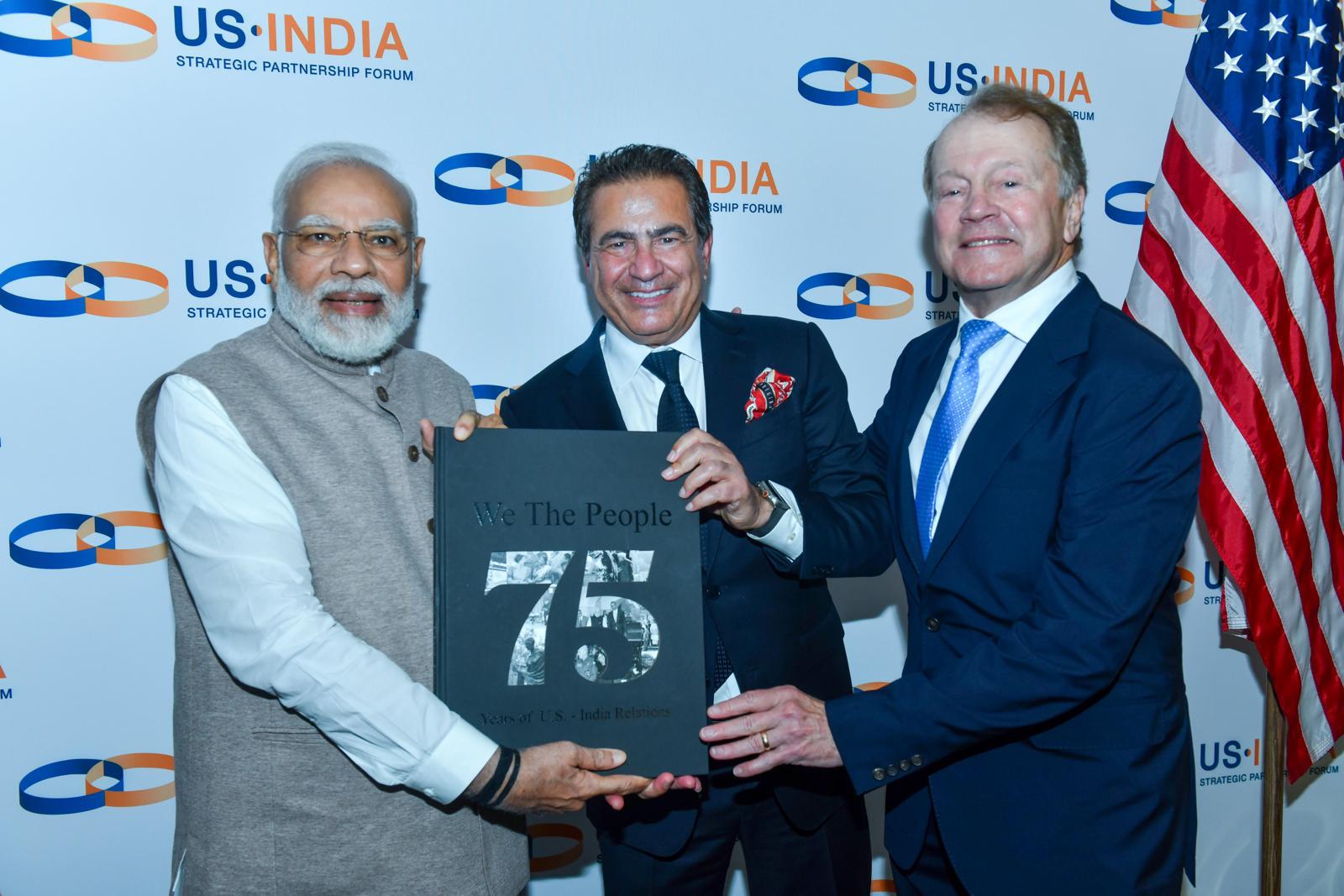 Prime Minister Narendra Modi with USISPF president and CEO Mukesh Aghi and USISPF chairman John Chambers / USISPF
India turns another year older this August 15th.
In 2022, we celebrated a milestone year with India's 75th year of independence. On the 76th year of Indian independence, an equally momentous occasion awaits as India gets set to host world leaders for the G20 Summit.
The time to be bullish on India is now, with rapid economic growth at a time of global headwinds. 
Prime Minister Narendra Modi's historic state visit and the upcoming G20 Summit in India are key markers of just how pivotal a geopolitical and geostrategic player India has become.  As we look forward to another year, and vision Amrit Kaal, the foundation and the blueprint is being laid for India@100.
While India is one of the fastest growing economies at nearly 7% economic growth, it's a remarkable story from where India started. 1947 was an epochal year, and while India celebrates 76 years of independence, it has been a little over three decades since India first attained an economic lifeline, through the monumental reforms of 1991 that ushered in a period of liberalization, globalization, and privatization.
In 1991, India was going through a balance of payment crisis, pawning off gold reserves to stay afloat. Today, in 2023, India has gone from a foreign exchange shortage to a foreign exchange surplus. India presently has the fourth largest forex reserves after Asian giants China, Japan, and then Switzerland preceding it. This, at a time, when similar South Asian neighbors attained independence, are now going through a forex crisis.
India was traditionally seen as a cash-based economy and is now the world's awe at the ubiquity of digital payments and the digital revolution through the Unified Payments Interface (UPI), which has unleashed a robust digital economy, enhanced digital trade, and brought about the next techade. Through the UPI system, apart from the strength of e-commerce and mobile payments in India, this synergy has been used for strengthening digital commercial partnerships with countries like France and Singapore.
Currently, India has 41 percent of the global market share in digital transactions with 48 billion transactions and is ahead of China at 18 billion transactions. A clear signal of where the strength of e-commerce lies.
Prime Minister Modi's recent state visit to the United States further elevated U.S.-India relations and enhanced the strategic partnership, both from a manufacturing perspective and bringing about collaboration in the field of critical and emerging technologies. The Prime Minister's visit also puts the U.S.-India strategic partnership in the pantheon of the most defining partnership of the 21st century. The manufacturing economy plays a key part in India's economic growth as India went from an agrarian to a services economy skipping the manufacturing component, while China had initially dominated the space.
Now the focus resumes as India's manufacturing economy gets an impetus in the hope to build up its semiconductor design and manufacturing capacities, largely helped by the government's focus on initiatives such as Make in India and the Production Linked Incentives (PLI schemes). The focus is on high-end tech manufacturing with data being the new oil, and semiconductors playing a central role in reshaping technological advantage. India is redefining an electronic competitive advantage and working to build a world-class semiconductor manufacturing ecosystem.
The pandemic also exacerbated the supply chain crisis, and the focus remains to rebuild and restore supply chains that were disrupted by the pandemic. This is vital as companies and CEOs across board rooms are now adopting a China plus one strategy and India, with its large labor talent pool and the country is in a pivotal position to capture the high-end component manufacturing market. In the friendshoring era, New Delhi's ability to produce cutting-edge products and enhance its manufacturing potential will be vital as companies seek to diversify their supply chains.
The healthcare crisis also saw India's steely resolve with its pharmaceutical prowess, mass vaccination drive, and delivery of cost-affordable vaccines to emerging markets.
Traditionally, India has been a laggard on infrastructure, falling behind its Asian competitors.  Through the PM Gati Shakti masterplan, infrastructure, and connectivity are the main focus, as a digital platform links railways and roadways and brings about integrated planning for infrastructure connectivity projects. The National Logistics Policy and the multi-modal connectivity are a testament to how far the country has come in the seamless connectivity and ease of movement of goods, a boost for both trade and last-mile connectivity and reducing travel time.
All this is vital in improving the ease of doing business environment, a top priority for the Prime Minister when he took office nine years ago. At this time in 2014, India was the tenth-largest economy globally, and earlier in 2022, in an almost historical correction, India overtook Britain, to become the world's fifth-largest economy and is only behind the U.S., China, Japan, and Germany. Projections and the current trajectory predict that India will become the third-largest economy between 2025-2027, hitting a target of $ 5 trillion in GDP. This will be possible through new sectors in the digital economy area, with the rise of FinTech, AI, quantum computing, a push for renewable energies, energy transition, electrification of vehicles, and climate action.
Competition is always healthy and in a federal system like India, in the past decade, we are seeing robust state competitiveness as various state delegations woo investors in the West to come and Make In India.
India, like China, has punched above its weight in a short span, in just over three decades, creating mass employment and becoming a world leader in the Information Technology sector. There is a phenomenal increase in purchasing power parity, leaving the License Raj era long behind. Along with economic growth, there is aspirational growth, with a young demographic dividend of people under 35, that sets it apart from aging populations like China and Japan.
An old civilizational country with a young population and a strong economic vision on the global stage is why investors pick India as their blue-chip economy. The India story is one for the ages, epitomizing a glorious historic past and an advanced economy of the future. 2023 will set the tone for India@100 in 2047.