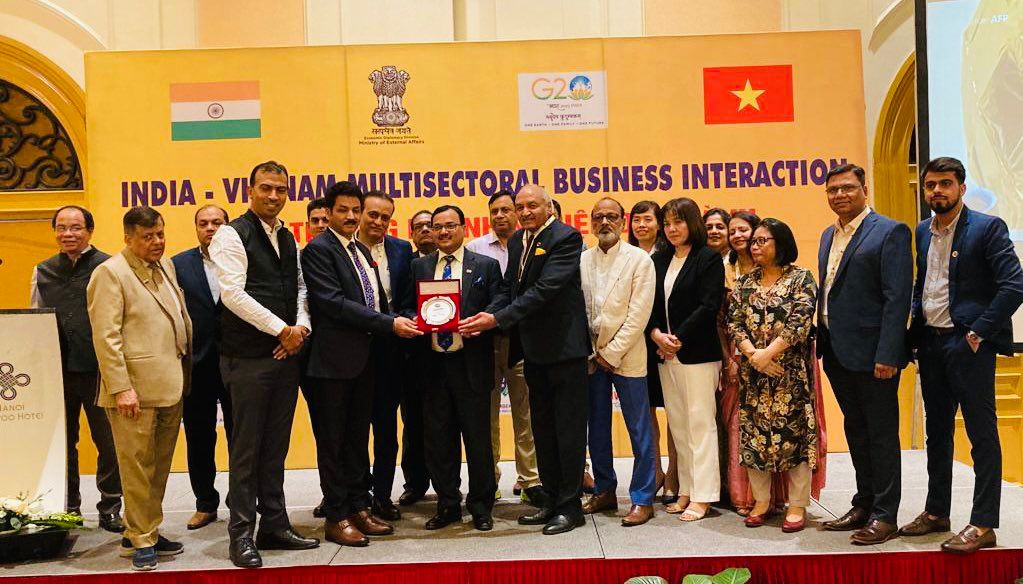 A delegation from the PHD Chamber of Commerce and Industry (PHDCCI) recently visited Vietnam to strengthen the bilateral relationship between India and Vietnam and explore the potential for increased trade collaboration.
The focus of the visit was to gain a comprehensive understanding of Vietnam's business ecosystem and to highlight the various opportunities for building strong business partnerships that would benefit both countries. The delegation also emphasized the ease of doing business capabilities in India and encouraged Vietnamese partners to consider investing in India's digital ecosystem, particularly in the IT sector.
Subhash P. Gupta, deputy chief of mission at the Embassy of India in Vietnam, welcomed the PHDCCI delegation and specifically invited Indian IT companies to invest in Vietnam's digital ecosystem. Given Vietnam's goal of becoming a net-zero carbon emission country by 2050, there are immense opportunities for India to contribute to the development of energy infrastructure, resilient and high-quality infrastructure, and effective water management facilities in Vietnam, Gupta maintained.
Furthermore, the diplomat encouraged Vietnam to explore partnerships within India's healthcare sector, which has grown to US$ 372 billion in 2022. He emphasized that as India aims to become a US$ 5 trillion economy and improve its Ease of Doing Business ranking, there are numerous opportunities for Vietnamese partners to collaborate.
Ranjeet Mehta, DSG of PHDCCI, highlighted the tremendous opportunities for India and Vietnam to achieve net-zero carbon economies together. He acknowledged India's significant target of reducing its carbon footprint by 2030 and ultimately achieving net-zero emissions by 2070. Dr Mehta emphasized the favourable prospects for sustainability initiatives in both India and Vietnam, particularly within the service sector.
Indronil Sengupta, chairman of the Indian Business Chamber in Hanoi, Vietnam, praised Vietnam's liberal foreign trade policy, which includes tax holidays and attractive land reforms. He highlighted Vietnam's bold government reforms, good governance, strong political system, and reduced entry barriers, all of which make Vietnam an appealing investment destination. Sengupta emphasized Vietnam's young population of 100 million, which presents an upwardly mobile consumer base, making it an attractive foreign market for Indian businesses.
Sengupta further emphasized Vietnam's status as the second country with the highest number of signed free trade agreements, accounting for 40 percent of global GDP. This positioning makes Vietnam a hub for international relationships, and Indian businesses are encouraged to invest in Vietnam and leverage its international connections and available resources. He also highlighted Vietnam's successful establishment of industrial parks and zones, which provide a plug-and-play model that is particularly advantageous for micro, small, and medium enterprises (MSMEs) looking to enter the Vietnamese market.
Tran Quang Huy, director general of the Asia and Africa Market Department at the Ministry of Industry and Trade in Vietnam, warmly welcomed the distinguished delegates and acknowledged the positive reception of Indian pharmaceutical products and services among Vietnamese people and medical providers. HE expressed the potential for medical tourism from Vietnam to India and emphasized the need for better information on specialized healthcare services to facilitate such tourism.
PHDCCI was established in 1905 as a proactive national apex chamber with strong national and international linkages. The chamber acts as a catalyst in the promotion of industry, trade, and entrepreneurship, positively impacting the economic growth and development of the nation through research-based policy advocacy.