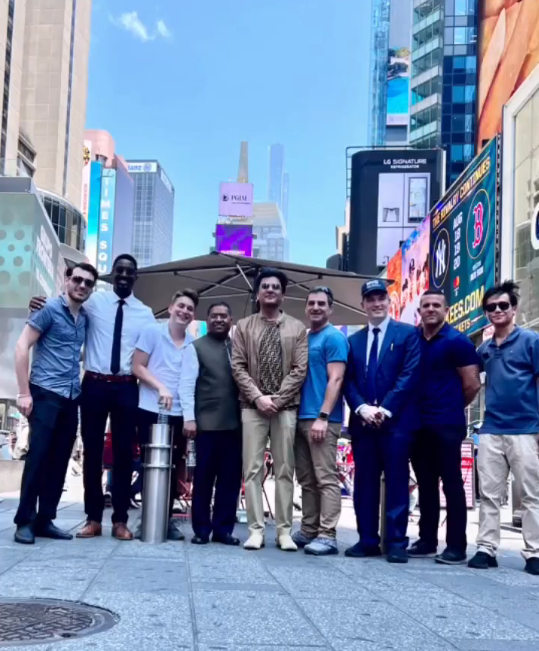 The Consulate General of India, New York and the Indo-American Arts Council will celebrate India's Independence Day at Times Square in New York. Vikas Khanna, a renowned Indian American chef announced the event where the Indian Flag hoisting ceremony will be followed by the unveiling of one of the best art pieces of modern times.
Making the announcement, Khanna said that the India Day celebration is going to be "history in the making." As per the plan, the Indian American community will unfurl the Indian National Flag on 45th Street & Broadway, which will be followed by the unveiling ceremony of an artefact package  weighing approximately 8000 pounds.
On the artwork, Khanna said that it would make one's heart beat with pride. "While I have been dreaming and conceptualising this moment for almost 5 years, the brilliant artists at work in India have toiled day and night for many, many months to make this come alive! This will be a magical moment," he said.
Commenting on the efforts invested to craft the artwork, Khanna said "Almost 5 years of dreaming + planning + coordinating + executing and most importantly keeping it a secret."
Sharinga short clip of the artefact he added, "This idea of the veil with peacocks came from my restaurant @kinaradxb. Every morning peacocks visit the restaurant and during the shedding season, they leave a few feathers. I got a few to NY and dreamt to create the veil for my stone art with them." Khanna also called upon people to participate in the event to celebrate India's magic and power and the beautiful historical moment.
Almost 5 years of dreaming + planning + coordinating + executing & most importantly keeping it a secret.

Can you imagine that how many artists have worked on this 7936.641 pounds of packaged art?

After the unveiling on Aug 15th, 2023 at Times Square at 11.00 am, this piece… pic.twitter.com/4uJpobYhxJ

— Vikas Khanna (@TheVikasKhanna) August 13, 2023