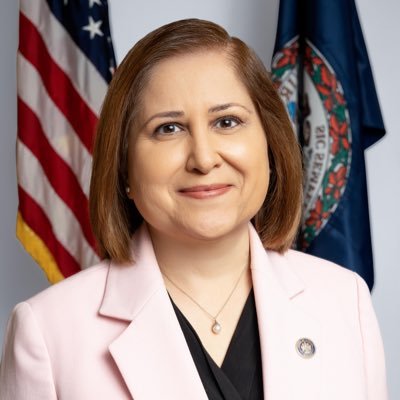 Ghazala Hashmi / Image-X/@SenatorHashmi
Ghazala Hashmi, the newly elected senator for Virginia's 15th district, is being sued by four residents of Chesterfield county. According to a report, locals filed an injunction to prevent Hashmi from taking office because they claim she does not actually live in the new district.
Hashmi's Republican opponent Hayden Fisher also has called for an investigation into her residency. On November 14, local residents filed a petition with the circuit court seeking to disqualify Hashmi on the grounds that she does not actually live at the address listed for her campaign in the new district.
They claimed Hashmi was seen more than a dozen times at her home in Midlothian, which is in District 10, miles outside of the new senate District 15 from where she ran, and defeated Hayden by reportedly 13,000 votes.
As per Virginia's constitution, members of the General Assembly are required to reside within the district they represent at the time of the election. The petition claimed Hashmi used the Midlothian address while making political contributions and images of the home were also used in promotional images on her campaign website.
"Although brought presumably six months after Senator Hashmi registered, the petitioners do not challenge any procedural defects to Senator Hashmi's registration but, rather, challenge Senator Hashmi's residency within the Fifteenth Senate District," the lawsuit said.
In a post on X, formerly Twitter, Hashmi wrote, "Leave it to MAGA election deniers to spread lies and throw a tantrum over the outcome of an election. I'm proud the voters have re-elected me so I can keep serving our community, and I am excited to continue delivering results for Virginia families."