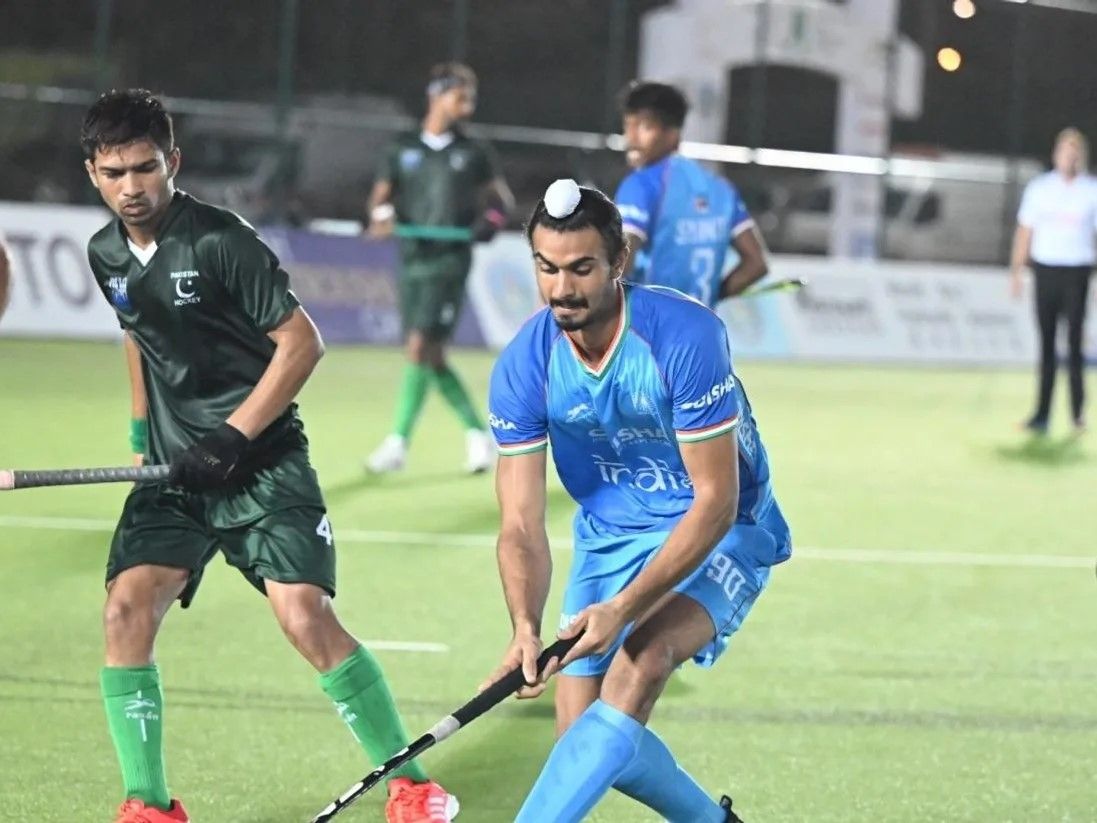 The Indian Junior Men's Hockey Team created history with a thrilling 2-1 victory over Pakistan in the Men's Junior Asia Cup final in Salalah, Oman. The team won the maximum number of titles, emerging victorious in 2004, 2008, and 2015 with the most recent triumph in 2023.
India Colts Captain Uttam Singh who was awarded the Player of the Match said, "After the 1-1 draw in the round-robin stage, we were very aware of the areas we had to do well to beat Pakistan. It was quite a nervous Final. The team had never played in front of such a big crowd but I think creating early goals helped us stay in control of the game."
The Indian Junior Men's Hockey Team showcased exceptional skill and determination as they scored a thrilling 2-1 victory over arch-rivals Pakistan in the final match. With this triumph, India has set a new record by winning the maximum number of titles in the history of the tournament.
Recognizing the outstanding performance of the team and their unbeaten record in the prestigious tournament, Hockey India's Executive Board announced a cash reward of INR 2.00 Lakh each for the players and INR 1.00 Lakh each for the support staff.
Reflecting on the team's achievement, India Coach CR Kumar praised the collective effort of the players, emphasizing the importance of executing scoring opportunities. Despite feeling that they could have converted more goals, Kumar commended the players for controlling their emotions and performing to their full potential against a formidable opponent like Pakistan.
Expressing his elation, Hockey India Secretary General Bhola Nath Singh congratulated the team for its impressive campaign and acknowledged their character and spirit throughout the tournament. He attributed the team's success to Hockey India's national program for the U21 category and applauded the team and support staff for maintaining India's outstanding record at the Junior Asia Cup.
India's victory over Pakistan in the final highlights its exceptional skills and teamwork, establishing itself as a dominant force in junior hockey and earning a spot in the upcoming FIH Men's Junior World Cup.
Congratulating the team, Hockey India President Padma Dilip Tirkey said, "The Indian Junior Men's team has made us all extremely proud with their unbeaten performance at the Junior Asia Cup. The team has shown great promise over the past few months, particularly after their historic win at the Sultan of Johor Cup they have become a dominant force and I believe this big win will hold them in good stead for the Junior World Cup later this year. Hockey India has decided to honour the players for this feat with a befitting cash award. I congratulate the team and the support staff for their efforts."