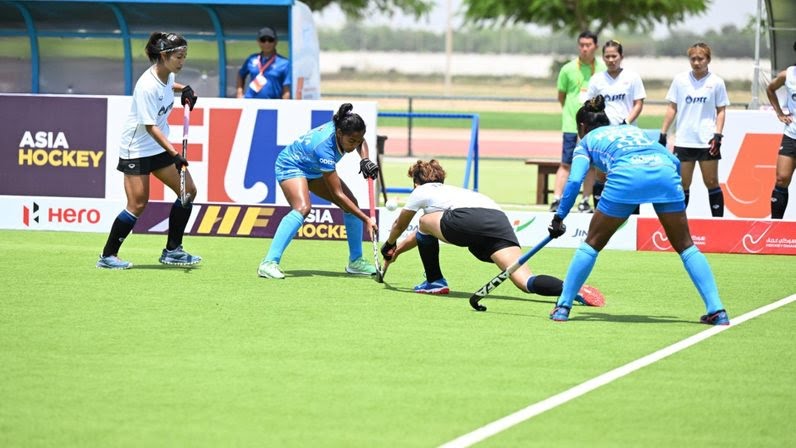 Navjot Kaur, Monika Dipi Toppo, Mahima Choudhary and Ajmina Kujur were on target for the Indian Women's Hockey Team / (Image - Hockey India)
India's women's hockey team defeated Thailand 5-4 in the Women's Asian Hockey 5s World Cup qualifier played on August 27 in Salalah.
OmanMahima Choudhary (20'), Navjot Kaur (1'), Monika Dipi Toppo (1', 7'), and Ajmina Kujur (30') scored goals for India. Piresram Anongnat (3'), Aunjai Natthakarn (10', 14'), and Suwapat Konthong (19') all scored field goals for Thailand. 
India sprinted out of the gate and pushed Thailand's defenders from the word go. With a field goal in the first minute of play, captain Navjot Kaur started the scoring. Monika Dipi Toppo's field goal in the opening minute gave India an early double, putting Thailand on the back foot.  
After the challenge goal was successfully converted, Thailand managed to get one back through Captain Piresram Anongnat (3'). Monika Dipi Toppo (7') was on the scoresheet for the second time making it 3-1 for India. Aunjai Natthakarn's (10') goal gave Thailand an opportunity to level the score with five minutes left in the first half. Aunjai Natthakarn (14') equalised the score for Thailand with a goal with a minute to go in the first half. 
The score was tied 3-3 at the end of the first half. India benefited from the momentum at the beginning of the second half and controlled most of the ball possession. India kept making risky runs within the striking circle, particularly on the left wing, posing a threat to the Thai team. Suwapat Konthong of Thailand, though, gave her team the lead in the nineteenth second. Mahima Choudhary, who was in great form, scored the challenge goal for India and promptly tied the score at 20 seconds. 
India began to play with a sense of urgency to take the lead with five minutes remaining after Monika Dipi Toppo from the left flank created a chance, but the ball missed the target. Ajmina Kujur (30') handed India the lead with just one minute remaining in the match. The Indian Women's Hockey Team won the game 5-4 in the end.