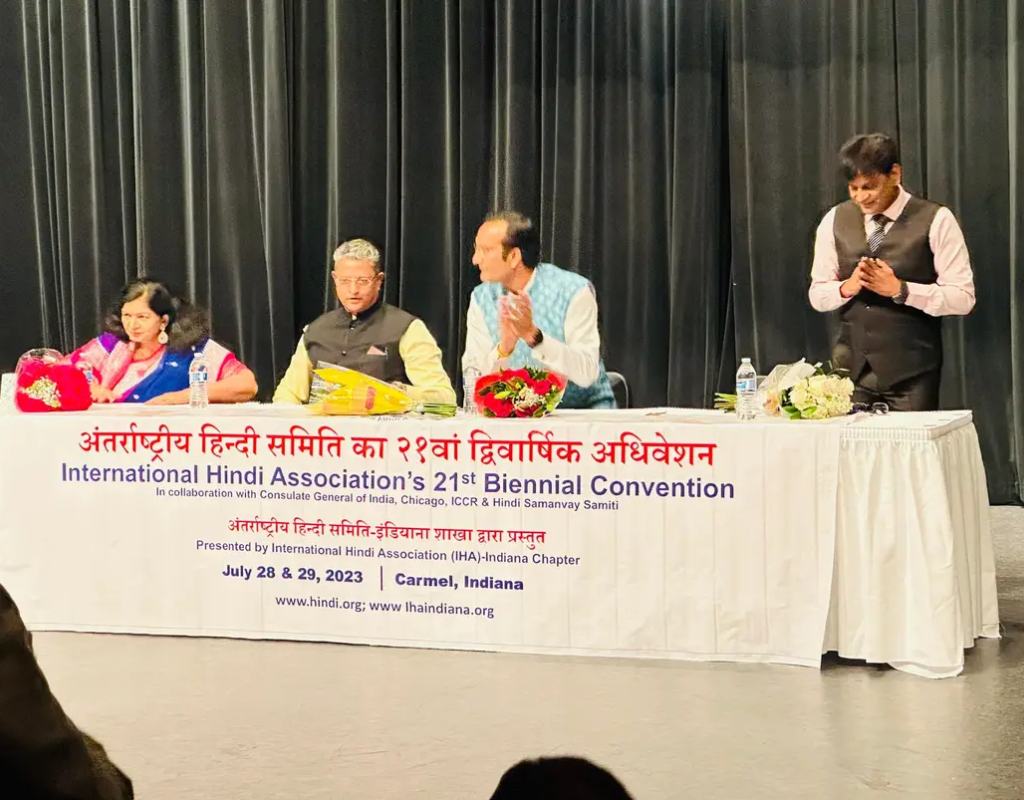 The Indiana Chapter of the International Hindi Association (IHA), led by Dr Rakesh Kumar, hosted its 21st Biennial Convention in Carmel, Indiana, USA, in partnership with the Consulate General of India. The two-day convention themed "Hindi Education for the Next Generation," offered engaging and educational programmes for all ages especially the youth.
Consul general of India in Chicago, Somnath Ghosh graced the event as chief guest while Diego Morales, Indiana Secretary of State attended as the guest of honour. Also in attendance were almost 350 participants, including five Hindi professors from India, seven professors from US universities, and over 40 Hindi activists and notable guests from across the United States.
Addressing the event, the Consul General underlined the Government of India's initiative to promote Hindi and all Indian languages as well as the steps taken in this regard. He encouraged the diaspora to implement the study of Hindi and other Indian languages in local schools and universities and through development of apps. The event also included presentations made by several academicians including prominent Hindi personalities in the USA like Dr. Mithilesh Mishra. In his lecture, "Issues in Maintenance of Hindi in the American Diaspora", Mishra highlighted that Universities in 23 states across the U.S. offer Hindi as an elective course. However, he also encouraged the audience to contribute to make similar efforts in the remaining states and spoke about the scholarships grants available for taking up Hindi in universities.
Other speakers spoke on promoting Indian languages, topics related to Hindi language and studies, initiatives by US states in offering Hindi as an elective course, and the important role of grandparents in making it interesting for the grandchildren to learn about India's rich cultural heritage through their stories.
The event also hosted a Kavi Sammelan (poets gathering) which was attended by ICCR-sponsored poet of distinction and national repute, Col. (Retd) V.P. Singh, who served as a doctor in the Indian Army for 30 years and other poets who came from India. In addition, Mamta Ahar and Dr Anuradha Dubey, mesmerized the audience with Hindi drama and Kathak dance performances respectively.