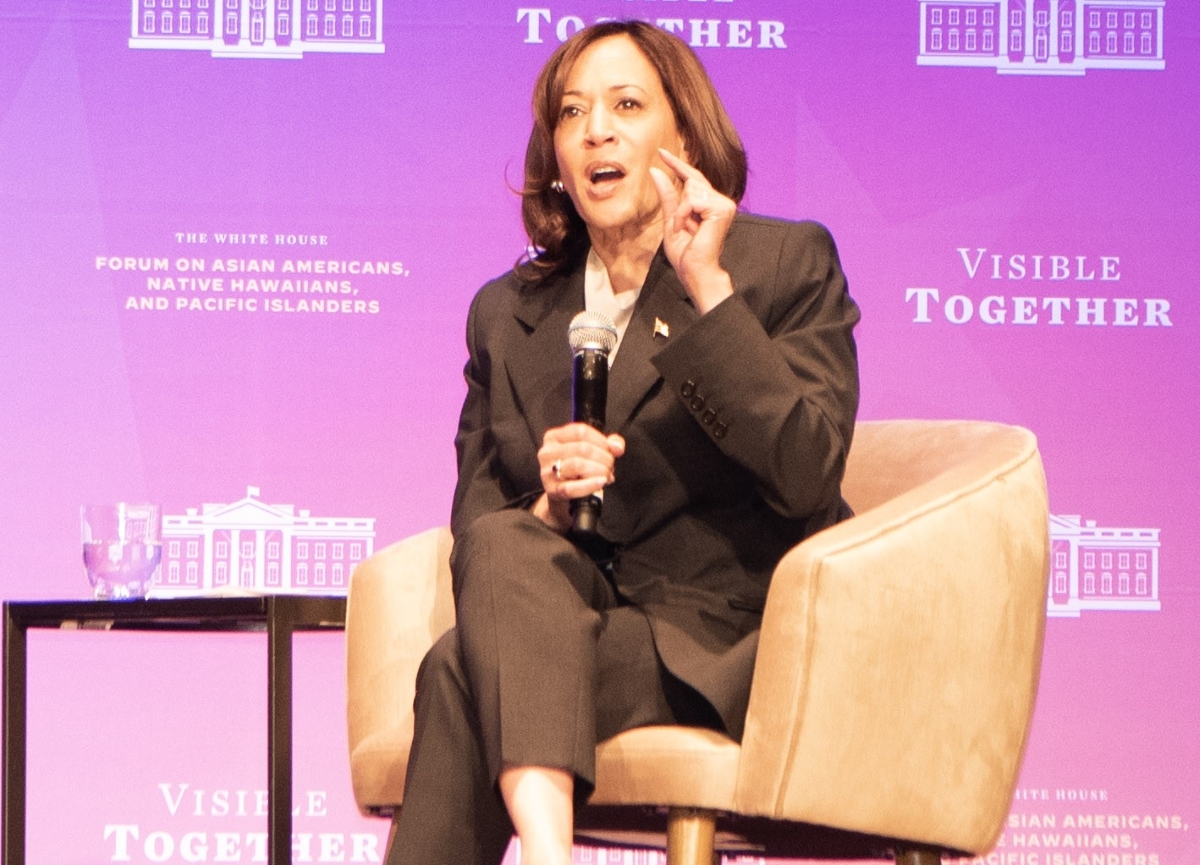 Vice President Kamala Harris May 3 headlined the White House daylong celebration kicking off Asian American, Native Hawaiian and Pacific Islanders Heritage Month. / (Sunita Sohrabji photo)
US Vice President Kamala Harris — the in vogue punching bag of Republican presidential candidates — squarely took on her detractors in a wide-ranging and often tense interview on "Face the Nation."
Host Margaret Brennan started the Sept. 10 interview with numerous clips of Republican rivals lambasting Harris. "A vote for Joe Biden is a vote for a President Kamala Harris," declared fellow Indian American Nikki Haley, the former South Carolina governor who has called the vice president an "unbelievable extremist" on the campaign trail.
Brennan also played a clip from from former New Jersey Governor Chris Christie, who said: "I want to be clear that I pray every night for Joe Biden's good health, not only because he's our president, but because of who our vice president is."
Florida Governor Ron DeSantis claimed Harris was Biden's "impeachment insurance."
"As bad as Biden is, it would get worse," he said.
Brennan asked Harris how she would respond to her critics. The vice president paused for a long minute before responding with a recap of  the Biden-Harris administration's accomplishments during its tenure. "We have created over 800,000 new manufacturing jobs in America, 13 million new jobs, unemployment at record lows. We have capped the cost of insulin for seniors at $35 a month. Capped the cost of prescription drugs on an annual basis at $2,000."
"They feel the need to attack because they're scared that we will win based on the merit of the work that Joe Biden and I, and our administration, has done," she said.
A CBS News/YouGov poll released Sept. 8 concluded that just 41% of Americans approve of Harris' job performance, while 59% do not. A poll released earlier in the week by the UK-based Redfield and Wilton Strategies showed even grimmer numbers: just 34% of those polled approved of Harris's performance, while 43% disapproved. 
Biden is polling in fairly similar approval ratings.
 Brennan referred to a poll by The Wall Street Journal, which concluded that two-thirds of Democrats believe Biden is too old to serve a second term. "Are you prepared to be commander in chief?" she asked Harris.
"Yes I am, if necessary. But Joe Biden is going to be fine," Harris responded before quickly segueing into more accomplishments by the administration. "Under Joe Biden's leadership, we have transformed and are in the process of transforming America's infrastructure with an historic investment in, not only roads and bridges, but high speed internet, what we are doing around issues like lead pipes, and I could go on and on."
"We will win reelection. There is too much at stake and the American people know it," she said, dismissing the very likely scenario of a Biden face-off against former President Donald Trump, who is widely believed to be the presumptive Republican nominee.
Brennan and Harris sparred for several minutes as the two discussed abortion rights. "Congress has the ability to put back in place the rights that the Supreme Court took from the women of America," said Harris, referring to the Supreme Court's overturning last June of the landmark 1972 Roe vs. Wade decision.
"It doesn't have the votes," stated Brennan, adding: "Don't you need to level with the American people and say this is not a realistic promise to make for 2024?" Harris repeated her claim that Congress could restore reproductive access, and repeatedly dodged a question on what week of pregnancy should abortion access be cut off.