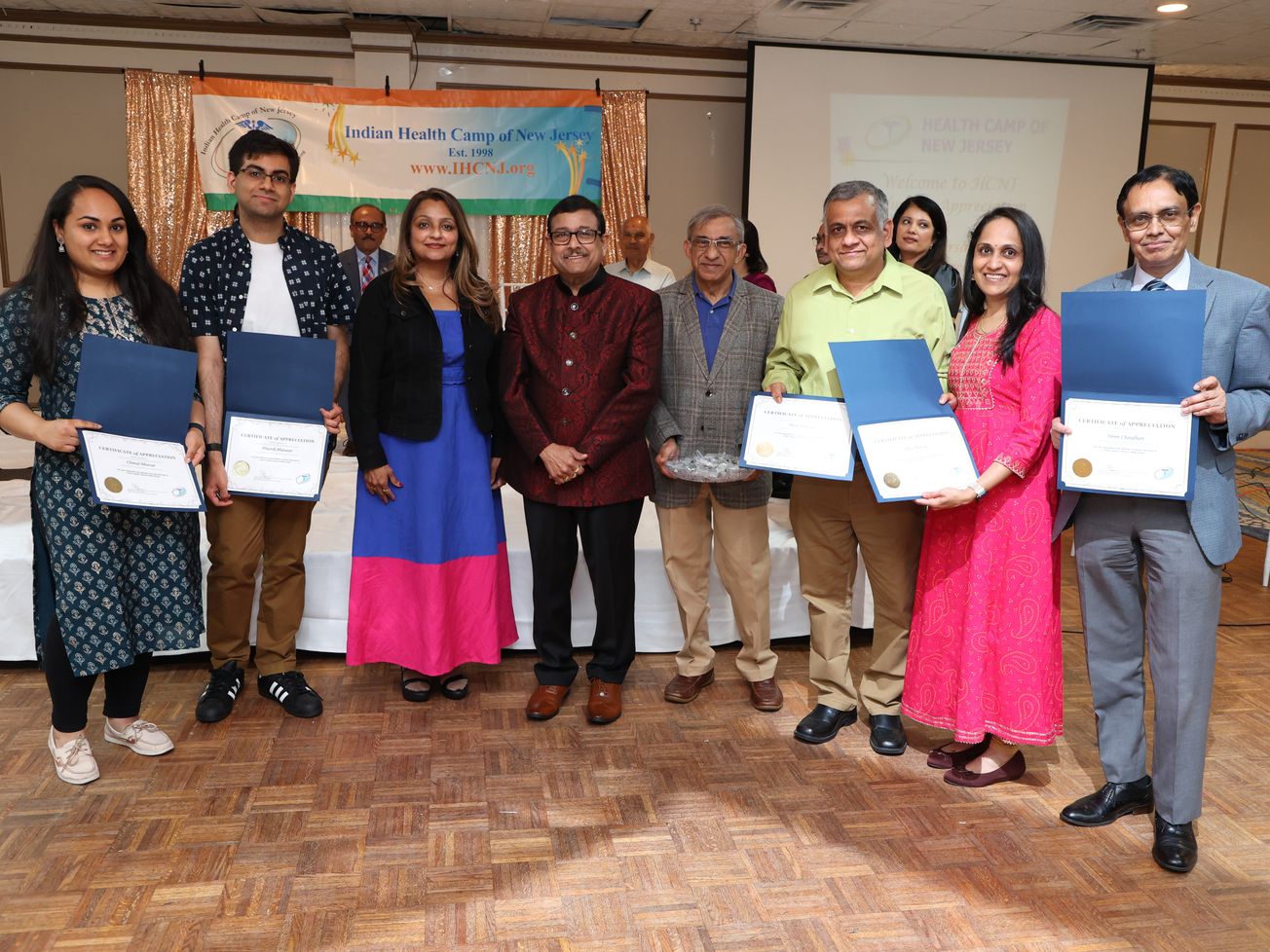 Aspart of its 25th anniversary celebrations the Health Camp of New Jersey (HCNJ) hosted a volunteers appreciation event at Royal Grand Manor in Edison which was attended by around 150 people. The event was aimed at honoring the volunteers for their efforts in organizing various health fairs as part of  the organization since 1999.
On the occasion, HCNJ also announced the establishment of a Community Health Center in New Jersey by 2026 for qualified individuals to provide timely post screening follow-up, additional diagnostic services and periodic check-ups for primary medical care, dental, eye care and mental health services. Atul and Lata Shah of ANS Consultants Inc. pledged US$150,000 for the center, a news release stated.
In his opening remarks, Kiran Kothari, chairman of Board of Trustees outlined the brief history and services provided by the organization and the positive impact it creates in families. Ritesh Shah, trustee of HCNJ also appreciated volunteers and highlighted that many immigrants do not qualify for Medicaid or Medicare and have no means to get timely screening or medications for their ailments.
"With the help of HCNJ and Ritesh Shah Charitable Pharmacy, we are able to reduce the disparity in screening and basic medications needed for thousands in the last year in New Jersey," Shah mentioned.
HCNJ president Dr Tushar Patel extended his appreciation to all the volunteers, supporters, sponsors, and organizations for their continued support of HCNJ. In his speech he noted that the organization's preventive health care initiatives have been recognized by many private and Government agencies such as the NJ Department of Health and Human Services, the Governor's Office, NJBIZ and faith-based and community organizations.
HCNJ is a non-profit organization in New Jersey that provides health screening and disease prevention education and counseling to uninsured or underinsured and marginalized population of the society. According to the organization, it has provided an estimated US$10 million worth of services since its inception. To continue its mission further a fundraising gala in commemoration of its 25th anniversary will be held on Sunday, November 19, 2023, at Balaji Temple Auditorium in Bridgewater, NJ.‌‌