Around a million devotees have descended in the coastal town of Puri, Odisha for Jagannath Rath Yatra 2023.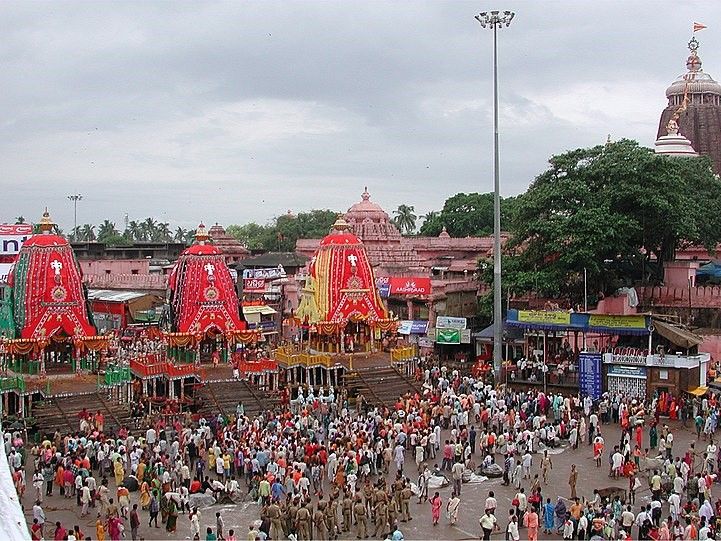 A large crowd of devotees gathered at the seaside of the pilgrim town of Puri for the annual Lord Jagannath's Ratha yatra on June 20. The origin of the 9-day-long festival has been traced back to the 12 th century. The idol of Lord Jagannath, a Hindu deity unique to Odisha, is taken out from the Jagannath temple during the Rath Yatra and taken around the city on decorated chariots, pulled by large groups of devotees, toward the Gundicha temple where the idol is placed for some days.
Chariots of Lord Balabhadra and Devi Subhadra also follow the main chariot. Every year thousands of devotees descend in the region from several parts of the world to witness the festivities with 2023 no different with the footfall estimated to be around a million.
Puri is not the only place that celebrates the festival. Hundreds of local chapters in various cities globally put together the Rath Yatra festival annually since 1968. This year the festival began on June 20. The date of the return yatra is set to June 28, 2023, and the idol of Lord Jagannath will begin its return journey back to the Jagannath temple. Idols of Lord Balabhadra and Devi Subhadra, siblings of Lord Jagannath, are also pulled to the Gundicha temple during the yatra.
The Odisha government made elaborate arrangements to provide support to the devotees. Water and ORS stations have been set up, and water sprinkling arrangements to help cool off the crowds were made. Security has been tightened and face-recognizing cameras are set up to scan suspicious crowds. Extra trains to Puri have been arranged for the devotees by the railway division. Additionally, parking facilities and shuttle services have been increased to ensure smooth darshan.