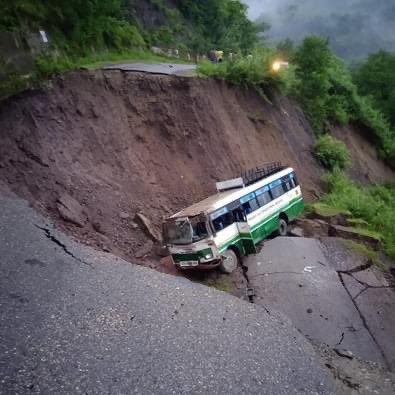 Landslide in Himachal / Image-X/@SukhuSukhvinder
As several parts of Himachal Pradesh (HP) experienced intense rainfall between 13-14 August 2023, numerous videos have emerged where individuals were seen being swept away by flash floods. Active rescue, search, and relief operations are currently in progress to address the situation, Chief Minister Sukhvinder Singh Sukhu said on X, formerly Twitter.

The Minister confirmed that over 50 have died in the state due to rain-related incidents. According to media reports, a cloudburst incident in the states's Solan district on August 13 led to the death of seven people. A landslide occurred in Summer Hill, Shimla near a Shiv temple resulting in the death of nine people. A
second landslide occurred in Shimla's Fagli area where more than 15 were rescued from the rubble and over five deaths were reported. Survivors of the landslides were taken to the Indira Gandhi Medical College for treatment.
Union home minister Amit Shah called the situation in the state "extremely distressing." He tweeted, "The loss of lives due to heavy rains and landslides at various places in Himachal Pradesh is extremely distressing. NDRF teams are engaged in relief and rescue operations along with the local administration. I express my deepest condolences to the bereaved families. May God give them the strength to bear this sorrow. I wish for the speedy recovery
of the injured."
On August 13, the Indian Meteorological Department (IMD) issued an orange alert for several districts in the state between August 13-14, and extremely heavy rain over Uttarakhand for the same period. Rain-related incidents result in the loss of lives and property in Himachal every year. In 2022, State Disaster Management Authority (SDMA) Director Sudesh Kumar Mokhta told reporters that as many as 278 people died due to rain-related incidents between June 29-August 29.