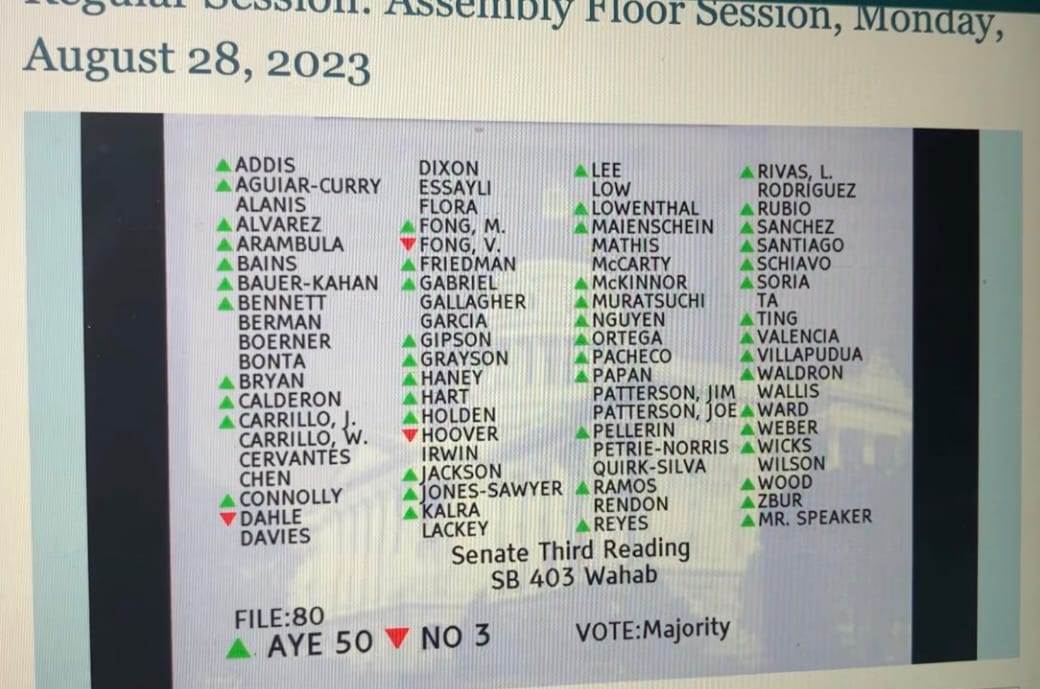 SB-403 voting result at the California State Assembly / Image – X/ Hindu American Foundation
In a significant development in US legislative history, California State's much debated anti-caste discrimination bill (SB-403) was passed by the California State Assembly with a 55-3 vote on August 28.
The legislation will add caste as a protected category under 'ancestry' in California's Unruh Civil Rights Act, Education, and Housing codes. Now, the Bill will be tabled before the Senate for its final concurrence vote on the amended version of the Bill and then will proceed for Governor Gavin Newsom's approval to become state law. The governor has the power to approve or veto the Bill. With the Governor's approval, the state will become the first US state to ban caste discrimination in the country. 
Indian American civil society groups are divided on the need of the bill and they have been campaigning in favour and against the bill. On SB-403 approval from the CA Assembly, Thenmozhi Soundararajan of Equality Labs said, "The Assembly Vote is a win for the ages. As the bill progresses, we ask Governor Newsom to sign this bill as once it crosses his desk, California can lead the nation and the world to ensure that our institutions are free from discrimination and ensure opportunity for all."
On the passing of the SB-403, chair emeritus California Democratic Party Progressive Caucus Amar Shergill remarked, "Today, once again, we see the success of the bipartisan, interfaith, and inter-caste coalition that is building an overwhelming statewide consensus to end caste discrimination in California. There is broad consensus in California among Democrats and Republicans that discrimination, in any form, is unacceptable." SatPaul Surila International Bahujan Organization, Pittsburgh, California, Maya Kamble Ambedkar Association of North America, Dr Nirmal Singh Shri Guru Ravidass Community, Bakersfield and others lauded the CA assembly on passing the anti-caste discrimination bill. 
In response to the CA Assembly vote, the Hindu American Foundation's executive director, Suhag Shukla issued a statement, thanking the 27 legislators who abstained and the three who voted no.  She said "Today is a sad day. California has reawakened its racist past in passing legislation that demonizes and targets South Asians and Hindus."  On the passing of the bill,  CoHNA (Coalition of Hindus in North America posted a statement on X ( formally known as Twitter) terming the new development as "a black day for California History."