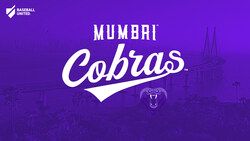 Mumbai will be home to the inaugural franchise of Baseball United, the first-ever professional baseball league devoted to the Middle East and Indian Subcontinent. The franchise will be the first baseball team to play in the major leagues in both India and the greater GCC and South Asian region. The name zeroed in for the team is 'Mumbai Cobras' to revere the creature for its strength and agility.
"This is a historic moment," said Kash Shaikh, President, CEO, and co-owner of Baseball United. "For the first time in history, this cricket-loving region will now have a professional baseball franchise. And Mumbai is the ideal city to carry that distinction. It's not only one of the largest and most dynamic cities in the world, but it's also the commercial and entertainment capital of India. We look forward to connecting with fans across this beautiful city and working together to build India's next great sport. It's our honor to welcome the Mumbai Cobras to Baseball United."
In November the Mumbai Cobras will participate in Baseball United's Dubai Showcase together with three other brand-new professional baseball teams. Until the conclusion of the league's inaugural tournament, all teams, including the Cobras, will be entirely owned by the league. At that point, Baseball United will start accepting offers for each franchise. One of the league's most lucrative franchises is expected to be Mumbai.
Over 50 million die-hard baseball fans live in India, the majority of whom are concentrated in and around the bigger Tier-1 cities, according to research by Baseball United. The Amateur Baseball Federation of India (ABFI), a baseball organisation connected with the World Baseball Softball Confederation, and Baseball United just announced their new partnership. The deal aims to promote player growth, national team preparation, fan engagement, community outreach, and government relations throughout India.