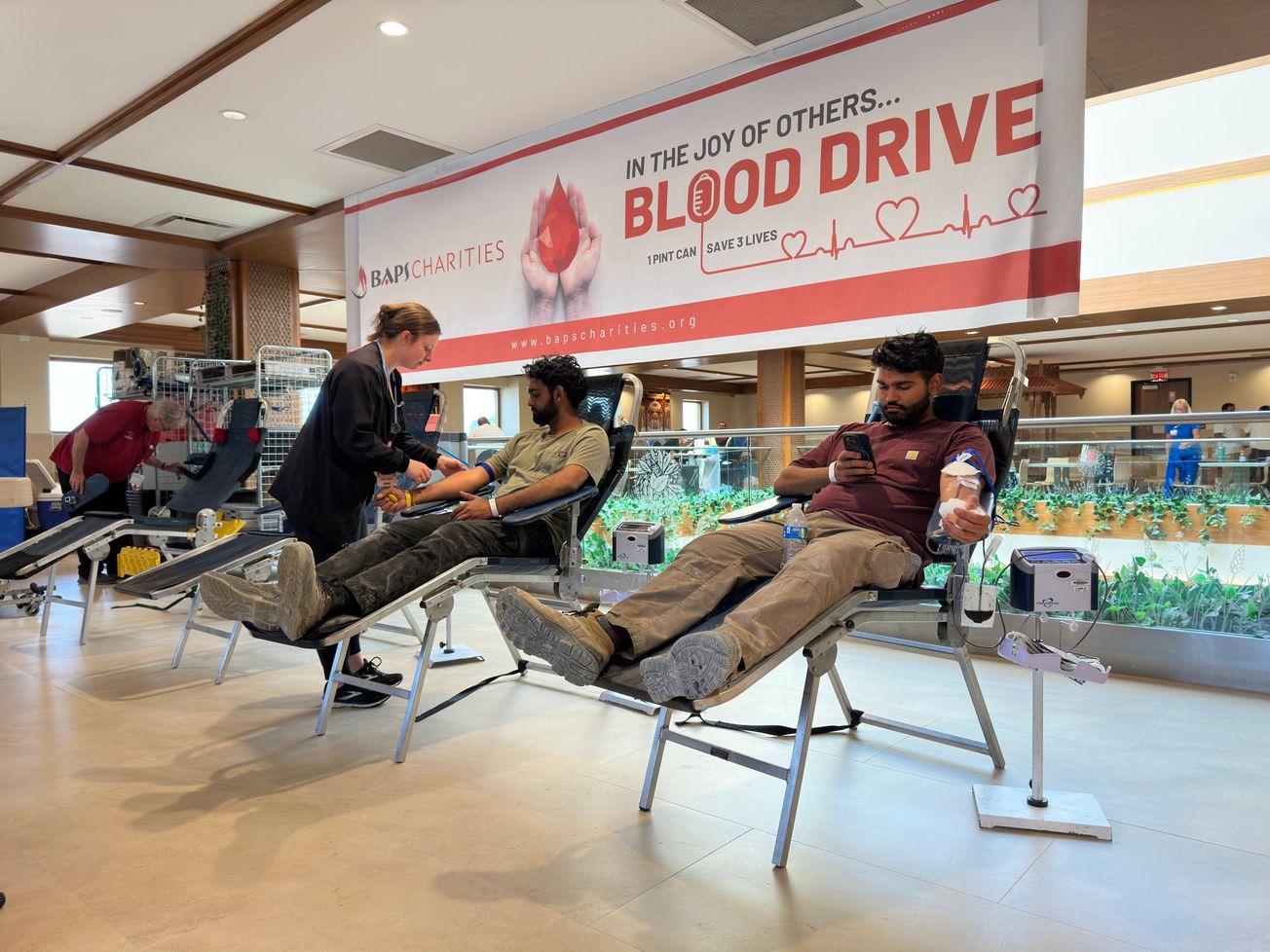 Bochasanwasi Akshar Purushottam Swaminarayan Sanstha (BAPS) Charities, in collaboration with local hospitals and organizations, has announced a blood donation drive at the BAPS Swaminarayan Akshardham in Robbinsville, NJ. The event which will last for over ten weeks has an ambitious target of collecting no less than 6,000 pints of blood and has the potential to impact and save up to 18,000 lives, a BAPS release stated.
The donated blood will be distributed to hospitals and organizations within the region. Some of the partners include the Miller-Keystone Blood Center, New Jersey Blood Services, RWJBarnabas Health, Vitalant, and the American Red Cross, who have joined hands to ensure the sustainability and success of this life-saving initiative, the release said.
Robbinsville Mayor Dave Fried, along with Council President Deborah Blakely and Councilwoman Christine Ciaccio, inaugurated the blood drive, marking yet another significant chapter in Mayor Fried's unwavering commitment to community service. Renowned for his impactful "Pay it Forward" initiative, which has raised over $450,000 for those in need, as well as his advocacy for barrier-free housing, Mayor Fried recognized the Akshardham blood drive as a crucial opportunity to give back to the community.  Expressing admiration for the Akshardham campus, Fried stated, "The scale of this operation is truly unique, and I'm excited to be a part of it. The selfless mission that BAPS has is an inspiration to all of us, and I'm glad that they chose Robbinsville."
Looking back on the selfless service of volunteers during an earlier blood drive Fried shared, "We were having a difficult time with volunteers. We called up BAPS at 10:30 am and by 3 pm, we had to call back and say, 'Okay, you need to stop sending volunteers'. Their volunteers are truly remarkable and you see it here in this facility."
"There is so much diversity in Robbinsville, which is amazing. When we come together as a community, you learn from each other, you understand each other, and you start to get more involved. I thank you guys for doing this," Council President Blakely remarked.
Sanskruti Brahmbhatt, a dedicated pre-med student at Seton Hall University and the president of the university blood initiative, expressed her heartfelt gratitude, stating, "As a BAPS volunteer, I'm thankful to the Robbinsville and Mercer community for welcoming the Akshardham project and for partnering with us to give back."
BAPS Charities holds an impressive historical record of hosting nearly 500 blood drives in the US alone since 2006. With their efforts toward generating enough blood to save an astounding 56,000 American lives, the organization remains steadfast in its commitment to national healthcare. The charity's global impact spans back to 1981 with large-scale blood donation drives conducted worldwide. The organization has also partnered with Susan G. Komen Foundation to raise awareness and support for breast cancer.
BAPS Charities is a global charity active in nine countries across five continents. With over 50 years of experience in humanitarian work, BAPS aims to establish a spirit of selfless service through health awareness, educational services, humanitarian relief, environmental protection & preservation, and community empowerment.