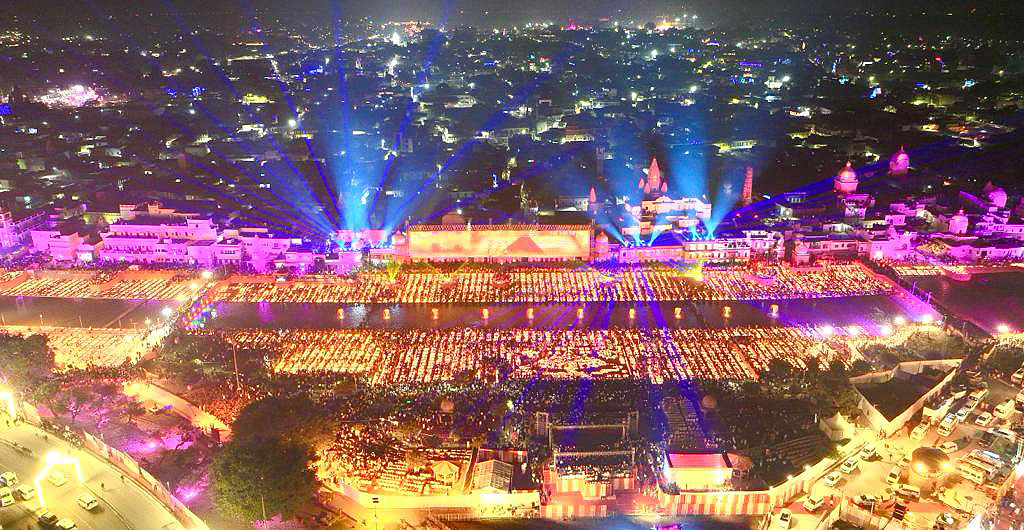 Aerial view of the Diyas / Image-X/@narendramodi
Ayodhya, a religious landmark city in Uttar Pradesh, has set a new Guinness World Record by burning over 2,223,000 'diyas' (earthen lamps) during 'Deepotsav 2023', the annual Diwali celebration. Last year on Diwali Eve, the temple town set a world record by lighting 1,576,000 diyas.
The Guinness Book of World Records officially recognized the Uttar Pradesh government's "Grand Deepotsav'' after officials witnessed and approved the accomplishment of lighting an unparalleled quantity of lamps at one site at the same time.
Uttar Pradesh Chief Minister Yogi Adityanath who attended the celebrations and received the record certificate said, "When the programme for the Deepotsav began, it felt as if every person had only one wish and that was the construction of the temple (Ram Temple)…"
Uttar Pradesh CM Yogi received the World record certificate from the officials (Image - X, myyogiadyanth)
"The whole country is becoming illuminated with the grand festival of lights of Ayodhya city illuminated with millions of lamps. The energy emanating from this is spreading new zeal and enthusiasm throughout India," PM Modi wrote.
According to Adityanath, the government is spending billions of rupees to develop the city and modernize Ayodhya in advance of the Ram Mandir's construction. The inauguration of the temple will reportedly be held on January 22, 2024.
The amount of diyas set a Guinness World Record, rising from 51,000 in 2017 to 410,000 in 2019, over 600,000 in 2020, and over 900,000 in 2021.
The Guinness Book of World Records only recognized diyas that were lit for five minutes or more; hence in 2022, 1,576,000 diyas were lit throughout the Ram ki Pairi ghats, setting a record.