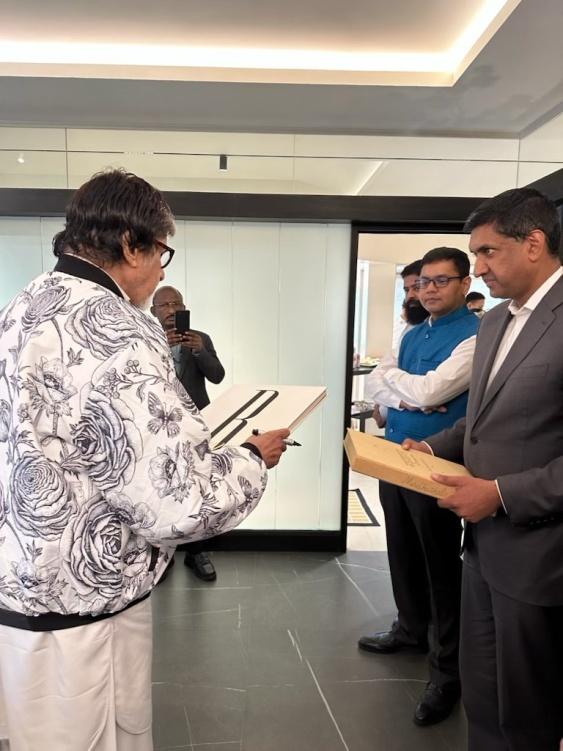 Ro Khanna with Amitabh Bachchan /
Congressman Ro Khanna met with Bollywood superstar Amitabh Bachchan, who, according to Khanna, is the greatest brand ambassador for India in the world. He stated that meeting the Indian superstar was an absolute honor. 
Khanna, the co-chair of the Congressional India Caucus, is currently on an India visit with a bipartisan Congressional delegation comprising of the co-chair of the India Caucus Michael Waltz, Indian-American Congressman Shri Thanedar and Congresswoman Deborah Ross and other fellow legislators.
After meeting with actor Bachchan, Khanna said, "It was an absolute honour to meet with @SrBachchan. He was proud of India's journey since independence linked with his own life and of the Indian American community. He presented me with a book written by his father Harivansh Rai Bachchan." In the short video posted on X, Khanna is seen meeting Bachchan at his Mumbai residence. 
Khanna also met with researcher Abhijit Iyer Mitra and discussed India-US relations.  On the meeting, Mitra said, "Free and frank exchange of views. I thank the congressman for his candour and his perspicacity, as well as striving to improve India-US relations."
As part of the visit to Mumbai, Khanna visited the Mumbai headquarters of Western Naval Command, the sword arm of the Indian Navy and Mazagon Dock Shipbuilders Ltd, according to a release. The representatives also met with actor Anupam Kher during the trip to Mumbai. The US congressional delegation will take part in the Independence Day celebrations in Delhi on August 15.