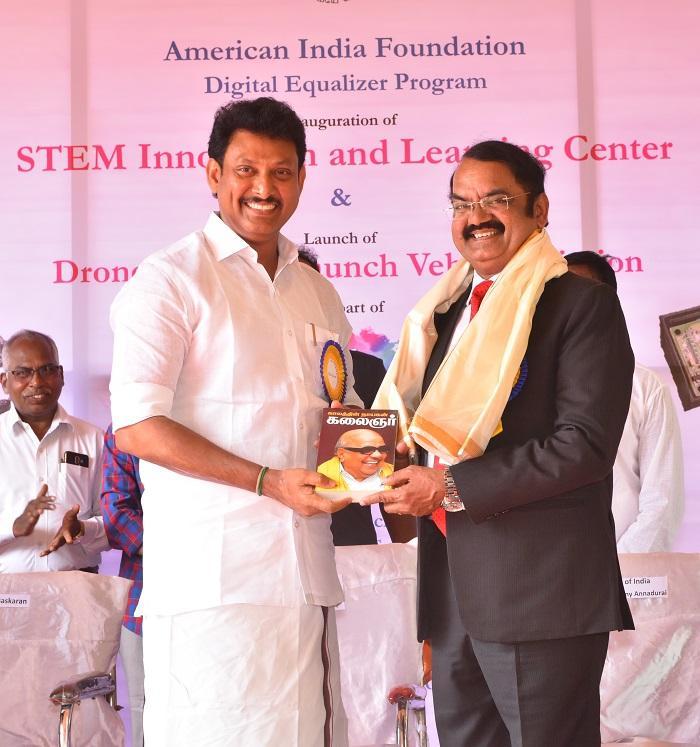 Chief Guest Anbil Mahesh Poyyamozhi, Minister for School Education, Government of Tamil Nadu (L) and Dr. Mylswamy Annadurai, Former Director - ISRO ( R) / Image-AIF
The American India Foundation (AIF) and Atlassian Foundation inaugurated a STEM Innovation and Learning Centre (SILC) at the Government Girls Higher Secondary School (ADW), in Tiruchirappalli, Tamil Nadu, India. The event was  attended by Mylswamy Annadurai, Moon Man of India, former director - ISRO, and Anbil Mahesh Poyyamozhi, Minister for School Education, Government of Tamil Nadu.
The centre, designed by AIF's award-winning flagship education program – Digital Equalizer, aims to be a one-stop shop for science, technology, engineering, and mathematics (STEM) among students and teachers. Students will be introduced to a transdisciplinary learning method through robots, artificial intelligence (AI), space technology, and the STEM Incubation workstation at the center's Innovation Corner for Students, a release stated.
Through challenging STEM courses, the cebtre will act as a platform for students to turn their creative ideas into working prototypes and give them a stage from which to compete in regional, national, and international contests.
A technology corner for teachers is another feature of the centre. It will be equipped with a smart lab, which will let teachers run technologically enhanced lessons for their pupils and receive training on the Digital Equaliser Way of Teaching (DEWoT), a special approach created by AIF to accommodate all sorts of students in the classroom. 
The centre also has a studio setup to help teachers produce high-quality DE Edu reels. This idea was developed to revolutionise education by producing easily digestible content for exams like the NEET and NMMS as well as for the subject's key definitions and fundamental concepts.
According to a release, the centre will have an impact on 60,000 students and 4,000 teachers across 250 schools, ushering in a new era of STEM education in Tamil Nadu.