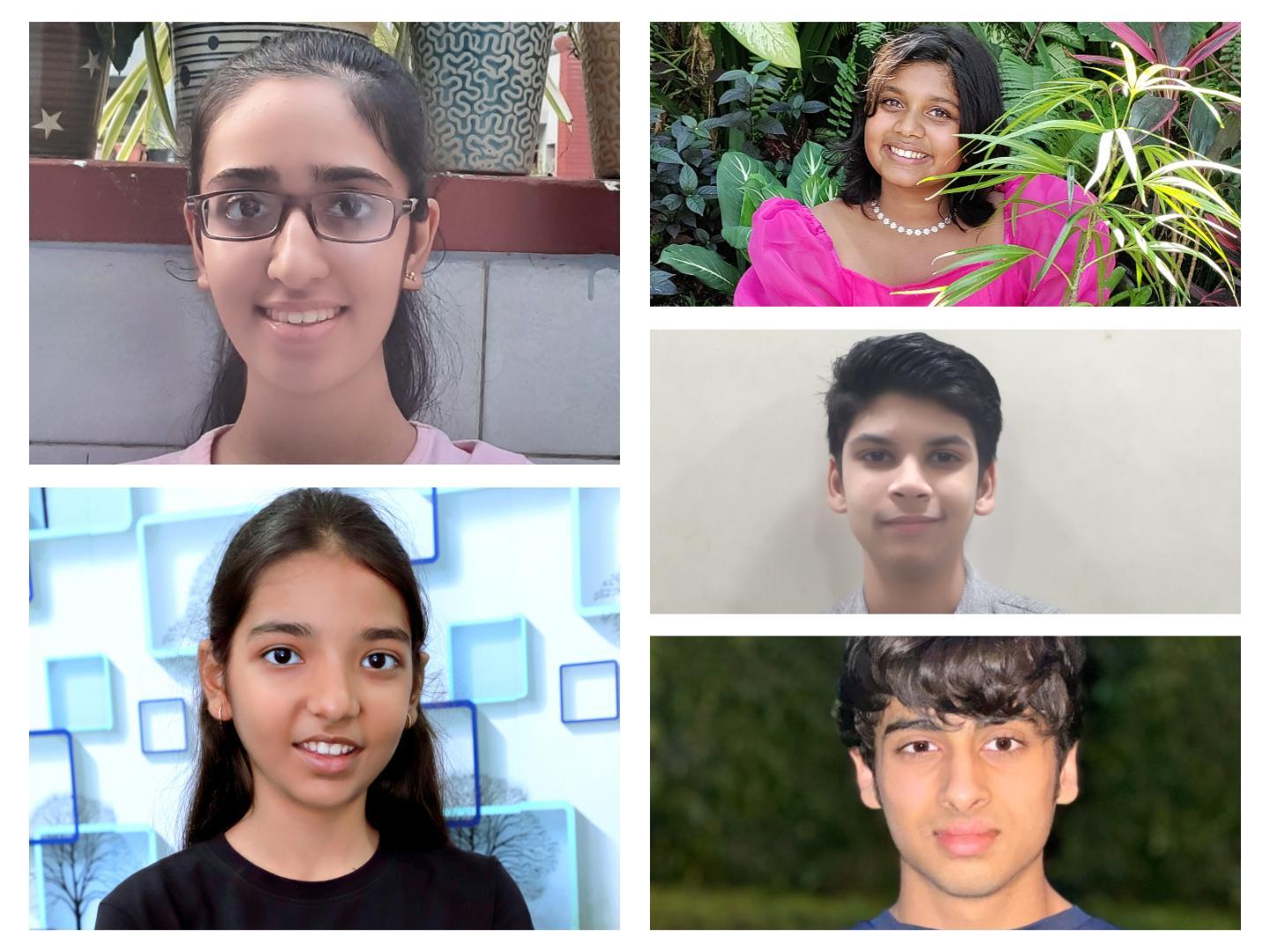 (left top) Mannat Kaur, (left bottom) Manya Harsha, (right bottom-top) Karnav Rastogi, Nirvaan Somany, Eiha Dixit /
Five young individuals from India are among the recipients of the 2023 International Young Eco-Hero Award, announced by Action For Nature. These awards recognize the efforts of environmentally conscious youth aged 8 to 16 who are actively working to address and resolve challenging environmental issues.
Eiha Dixit, a 9-year-old from Meerut has achieved first place in this year's competition. Eiha has been passionately involved in environmental protection since the age of four. Through her initiative, the Green Eiha Smile Foundation, she has collaborated with volunteers to plant more than 20,000 saplings. Manya Harsha, a 12-year-old from Bangalore, India, has secured second place in the 8-12-year-old category of this year's competition. Manya is on a mission to increase awareness about environmental concerns and climate action. She utilizes platforms like books, blogs, and her YouTube channel, "The Little Environmentalist," to motivate young people to engage in environmental activities and adopt eco-conscious practices.
Nirvaan Somany, a 16-year-old from New Delhi, India, has clinched second place in the 13-16 year-old category of this year's competition. Nirvana established Project Jeans, aiming to combat the environmental consequences of the fashion industry, particularly the waste generated by discarded denim. By repurposing used jeans into washable and insulating sleeping bags for the homeless, he minimizes landfill waste while offering improved protection against harsh weather conditions.
Mannat Kaur, a 15-year-old from New Delhi, India, secured third place in this year's competition. Mannat's initiative targets water scarcity and carbon emissions linked to freshwater supply and wastewater treatment. She has devised a system to collect, filter, and repurpose greywater from households for non-potable uses, contributing to the conservation of valuable drinking water.
Karnav Rastogi, a 13-year-old from Mumbai, India, earned an honourable mention in this year's competition. Karnav is dedicated to increasing awareness and taking measures to minimize plastic waste and address climate change. He authored two books, "Kartik, Daddy & Plastic: A journey about beating plastic pollution" and "Kartik, Mixie & Monster: A journey about ocean pollution," aimed at educating young individuals about the consequences of plastic pollution and climate change, offering solutions to address these challenges.