Alanita Travel® is a leading travel company that specializes in providing its customers with the lowest possible airline fares for travel between the United States and India. Since it was founded in 1994 by Madras-born Anita Gray, our friendly and professional staff has helped tens of thousands of satisfied customers and has become the largest company in the United States specializing in flights from the United States to India. Our success has been a result of our competitive prices and industry renowned customer service.
Anita Gray and Alan Teig - the founders and owners of Alanita Travel®, focus every day on meeting the specific needs of their clients; to get the lowest airline fares to India and to receive the best personal service. With the name of the company combining their names, "Al + Anita" they take pride in developing and leading a professional team dedicated to providing their clients with the best flights at the best rate.
Once you have browsed our website for sale fares, please give us a call at
1-888-465-4282 or send us an email at alanita@alanitatravel.net and allow us the opportunity to earn your business. Whether on the phone or online, the best fares all the time, Alanita Travel!
Know More About Travel Journal
Alanita Travel's Magazine - Travalogue
Welcome to the Alanita Travel Journal, your go-to source for travel inspiration and information in the year 2023.! Published by our experienced team of travel experts, this online journal is packed with suggestions, travel plans, tips and ideas to visit destinations all around the globe.
Whether you are a seasoned traveler or just starting to plan your next trip, the Alanita Travel Journal has something for everyone. The TRAVELOGUE - Alanita Travel Journal is your ultimate guide to all things travel, and we are excited to share a diverse range of topics with you in the year 2023. From practical advice on airline ticket pricing and visa planning, to informative pieces on the benefits of working with a travel agent and the cost of making travel mistakes, we have got you covered.
Our team is dedicated to helping you navigate the complexities of travel, so you can make informed decisions and enjoy your journeys to the fullest. We also cover topics like airline fees that you should be aware of, and things to avoid on a flight for a more comfortable experience.
From the sun-drenched beaches of the Australia to the vibrant tapestry of history, culture, and natural beauty of India, we had cover it all in the The TRAVELOGUE – An Alanita Travel's Digital Journal. For those seeking inspiration for their next adventure, we have compiled a list of the 10 best vacation spots for 2023, featuring destinations that are sure to delight and inspire. So, if you are looking for a comprehensive travel resource that covers everything from practical tips to inspiring destinations, look no further than the Alanita Travel.
Why Choose Alanita Travel ?
24/7 Personal Customer Service
Multiple Languages Spoken (English, Hindi, Tamil, Telugu, Kannada)
Travel Industry Masters
Offering Lowest Phone Fares In The Market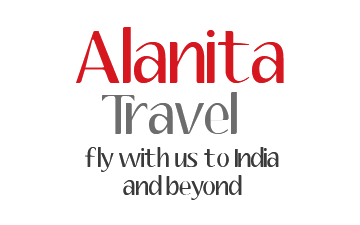 Offices In USA And India
Easy And Secure Payment Gateway
Long Term Reliability From Over 20 Years Of Service
Walk In To Any Branch For Instant Flight Booking Or Book It Online Anytime
Flight Information
30 Places
Starting from - $559
Air Flight
10 Places
Starting from - $666
Air Flight