Renowned chef Khanna hosted events for President Barack Obama, the Dalai Lama, Pope Francis, Prime Minister Narendra Modi and many other world leaders and celebrities.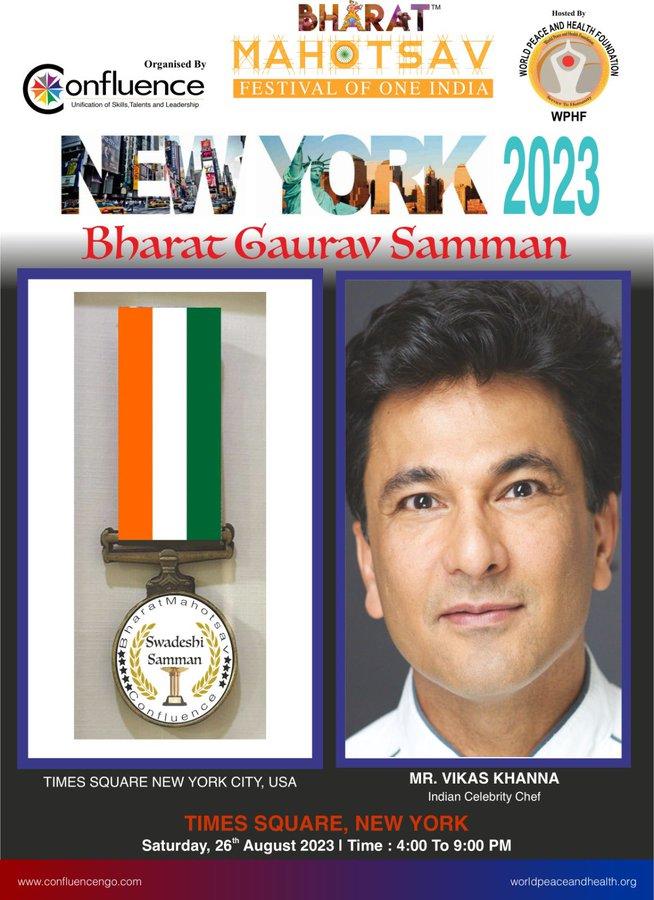 Announcement of award. / Image – X/ Vikas Khanna
Vikas Khanna, an Indian American celebrity chef, was awarded the Swadeshi Samman, also known as the Bharat Gaurav Samman, at the 'Bharat Mahotsav' in New York for his contributions to the people, the community, and his achievements.
Not-for-profit organization, Confluence awarded Khanna at its annual Mahotsav at Time Square in New York on August 26. The award is presented by Confluence to internationally recognized individuals who have made significant contributions to a variety of fields.
"I am so honored to be receiving this honor," Chef Khanna said in response to the award. He recently drew media attention when he unveiled a magnificent stone art replica of Konark's Sun Temple in Times Square New York during India's 77th Independence Day celebrations. During the Covid- 19 pandemic, he launched the Feed India Campaign to serve food in many cities across the country, as well as supported needy people in other ways.
Khanna, an award-winning Michelin-starred chef and host of many prime-time shows including MasterChef India and Twist of Taste, has been a guest chef on many culinary digital shows including Gordon Ramsay's Kitchen Nightmares and MasterChef Australia.
He has written several books, including the world's most expensive cookbook, UTSAV, and is the creator of the Holy Kitchens and Kitchens Series of Gratitude Documentaries.
Confluence hosts the 'Bharat Mahotsav' every year. The Mahotsav themed 'Celebrating Amrit Kaal - Transforming India to New India' and 75 years of Indian Independence was organized for 2023. A swadeshi parade, music concert, and other activities were planned for the event.