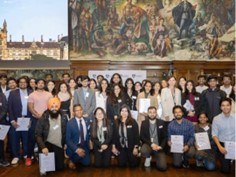 Group of scholarship recipients with their certificate / (Image - University of Sydney)
University of Sydney organized a ceremony for scholarship winners of the 2020–2023 academic year. The event provided students a chance to interact in person and exchange stories about living and studying in Australia.
Shane Griffin, Associate Vice President of Sydney Future Students, addressed the audience and congratulated and thanked the students. "We are committed to continued investment in India through education, research, and collaboration with industry partners – and importantly, to fostering our diverse student community," he remarked.
"Our Indian students contribute to a vital part of our campus experience – exposure to different perspectives and different ways of doing things – and they are valued members of our University community.  Whether you're beginning your studies or have been here longer, I encourage you to get involved with campus life wherever you can and make the most of the opportunities available to you," said Shane.
Aryan Bhatia, a Delhi native who just finished his bachelor's degree in software engineering, was the inaugural recipient of the Sydney Scholars India Scholarship in 2019. "The scholarship changed my life's trajectory. Uni made me more independent, more confident and more mature. I came here alone not knowing anyone and now it is my second home," said Aryan. He is now working as a software engineer in the Sydney CBD and encouraged current students to be proactive with career opportunities and keep learning.
2020 recipient Ava Khan is in her fourth year studying a Bachelor of Science and Bachelor of Advanced Studies, majoring in health and infectious diseases. "Studying here and engaging in the several research projects and opportunities that I have been afforded and speaking to leaders in the industry in digital health has helped me reshape my idea and figure out the kinks that I need to smooth it out," said Ava.
The Sydney Scholars India Scholarship Program, which was established in 2019, provides financial assistance to deserving Indian international students who wish to pursue their studies in Sydney and who have innovative ideas for improving their nation. The scholarship has since been awarded to 109 students as part of the university's dedication to strengthening academic links with India and assisting students from various backgrounds in realizing their full potential.
One of Australia's most substantial scholarship programs for Indian overseas students, the Program awards more than $500,000 in scholarships each year. Each year, 28 scholarships are given out in total:
For any undergraduate degree that lasts up to four years, 3 x $40,000 per year.
10 first-year undergraduate and graduate scholarships each worth $20,000
15 first-year undergraduate and graduate scholarships each worth $10,000