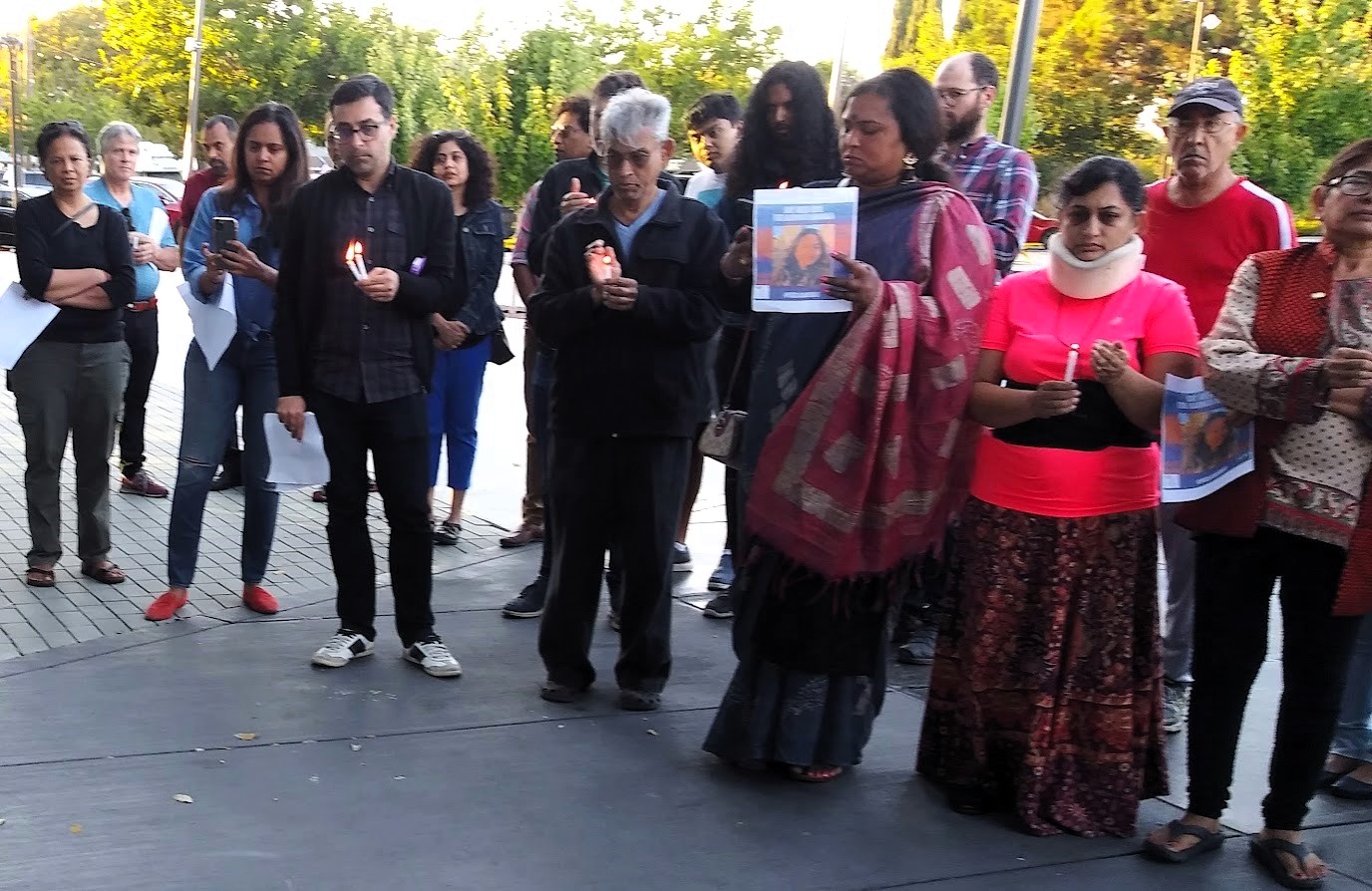 A candle-light vigil was held Sept. 17 in Fremont, California to honor the life of graduate student Jaahnavi Kandula. In the forefront in sari in Anjali Rimi, who said she was met with indifference by police after being assaulted on the streets of San Francisco. / Image:Sunita Sohrabji
FREMONT, California —A pan-ethnic clutch of San Francisco Bay Area residents gathered here Sept. 17 evening to pay homage to Jaahnavi Kandula, the 26-year-old student whose life was cut short as she was fatally hit by a speeding police car.
The candle-light vigil in Fremont was organized by South Asians for America and Fremont city councilman Raj Salwan, among others. SAFA organized a similar gathering in Artesia, California. Fremont and Artesia are home to the largest concentrations of Indian Americans in the nation.
Kandula — a 23-year-old graduate student from Bengaluru who was attending Northeastern University in Seattle, Washington to earn her Masters degree in information systems — was killed in January she was hit by a patrol car driven by police officer Kevin Dave. The officer was driving at 74 mph to the scene of a drug overdose.
Fury over Kandula's death erupted last week as bodycam footage was released, in which another Seattle Police Department Officer, David Auderer, was heard laughing about the young woman's death. "Yeah, just write a check for $11,000. She was 26 anyway; she had limited value." 
Harini Krishnan, co-founder of South Asians for America, spoke through tears at the Fremont vigil. "I am the mother of two daughters, young women. I hope they are seen as having more value than $11,000."
"To hear the officer say those words was so painful. Jaahnavi could have been my daughter. Her life mattered."
Krishnan read a poem from civil rights activist Valarie Kaur, who noted that her family is celebrating 110 years of living in America. "Still, my daughter is seen as the other, the worthless," wrote Kaur.
Krishnan later told New India Abroad that attorneys from the South Asian Bar Association have taken on the case and are asking for a deep investigation with accountability for all of the officers involved.
From left to right: Harini Krishnan and Deepa Sharma of South Asians for America; Vijaya Aasuri of the Bay Area Telugu Association; and Fremont, California city councilman Raj Salwan. (Image:Sunita Sohrabji )
SAFA has also reached out to Rep. Pramila Jayapal, D-Washington. "She is absolutely outraged," said Krishnan, adding that the congresswoman has also called for a thorough investigation.
Deepa Sharma, co-chair of the Board of Directors for SAFA, said: "Those of us with accents, or who wear our articles of faith, fear that people in power do not have respect for us, and that we will not receive equal treatment in the process of law."
"Jaahnavi's death underscores the importance of engagement with those in power," said Sharma.
"This was such a great injustice. Such troubling words were said about Jaahnavi's life," said Salwan. "Such callous and insensitive words have no place in our society. Jaahnavi had great promise and great dreams. Every life is invaluable."
The city councilman noted that Asian Americans have increasingly become the targets of attack over the past three years. The web portal StopAAPIHate has recorded more than 11,500 hate crimes and incidents since it launched in 2020. "Our nation has become more polarized, more tribal, with divisions based on religion, identity, and ethnicity. We have a lot of work to do to rebuild unity in our country."
Ajay Jain Bhutoria, who serves on President Joe Biden's Advisory Commission on Asian Americans, Native Hawaiians, and Pacific Islanders, said: "I strongly condemn the conduct of the police officer involved in this case and call for a thorough and transparent investigation to ensure that justice is served."
"It is crucial that incidents like these are rigorously examined, and accountability is upheld to maintain community trust in our law enforcement agencies," said Bhutoria.
A candlelight tribute to Jaahnavi Kandula was held Sept. 17 in Fremont, California. (Image:Sunita Sohrabji )
Anu Natarajan, who formerly served as mayor of Fremont — and was the first Indian American woman mayor in the US — noted her own immigration as a young student from Bengaluru to Seattle. "My parents were so worried. I cannot imagine what Jaahnavi's mother must be going through."
Natarajan, whose daughter is also attending college, thanked the community for coming together. "We must continue to fight for hard changes in our system of law enforcement."
"Jaahnavi must never forgotten," said Natarajan.
Several other civic leaders spoke at the vigil, including transgender activist Anjali Rimi, who was assaulted on the streets of San Francisco last summer, but received indifference and inaction from local law enforcement.