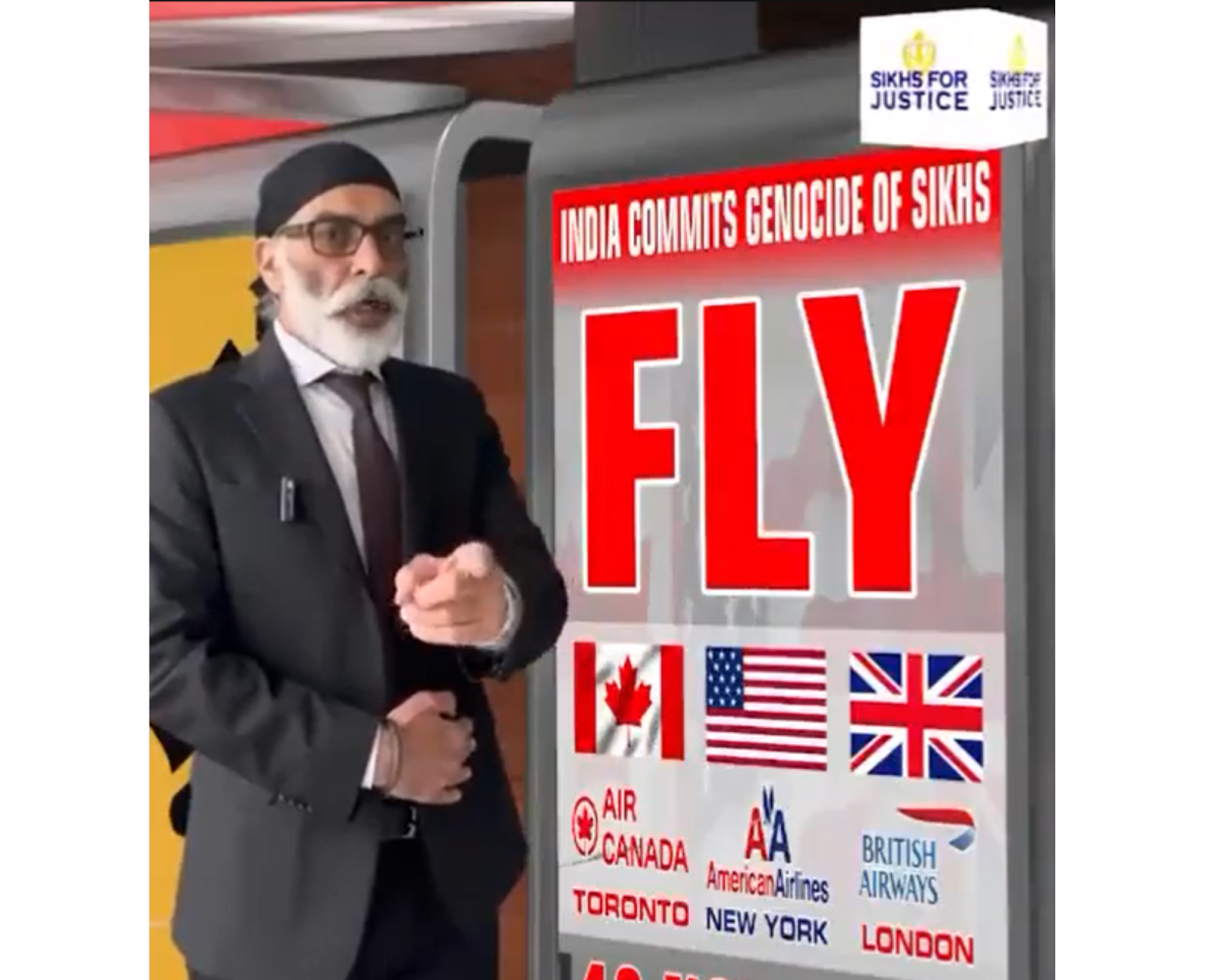 ScreenGrab from the video / Twitter/@SukhGrewalBJP
In a recent video, Gurpatwant Singh Pannun, general counsel for Sikhs for Justice (SFJ), urged Sikhs to boycott Air India flights after November 19, claiming that failure to do so posed a "danger" to their lives. In response, the Hindu Forum Canada (HFC) organization wrote to Canadian authorities demanding action be taken.
HFC onboarded a Toronto-based law firm Brauti Thorning LLP, and a letter seeking action, on their behalf, was sent to the Royal Canadian Mounted Police (RCMP), Peel Regional Police, Canadian Security Intelligence Service (CSIS), and Canada Border Services Agency (CBSA). Prime Minister Justin Trudeau was alerted with a letter as well.
"He explicitly suggests that an Air India aircraft will be blown up. Despite claiming to fight for a peaceful Sikh community, his actions demonstrate a dangerous and radical mentality," the letter says.
"Pannun's recent comments and videos have caused distress and trauma not only within Hindu community but also among Canadian citizens at large," the letter said. In September, Pannun through another video, had called upon the Hindus living in Canada to "Leave Canada – Go to India," adding that some in the community were working to protect and promote the interests of India while enjoying economic benefits from Canada.
"The distribution of hateful videos through various social media platforms has further exacerbated these concerns. This situation is deeply troubling, as it suggests that Canada may inadvertently be tolerating the incitement of violence directed at a specific group within its borders."
The letter came after Pannun asked for citizen's arrest of Indian High Commissioner in Canada, Sanjay Verma, for a reward of CAD $100,000 (US $73044). "Indian High Commissioner in Canada, Sanjay Verma, for the last one week, he is raising a false flag of terror threat to Air India…this is a crime under Canadian law, preventing the course of justice. The reason he is doing this is to mislead the Canadian investigation of his role in the assassination of Nijjar," Pannun was quoted as saying in a viral video.