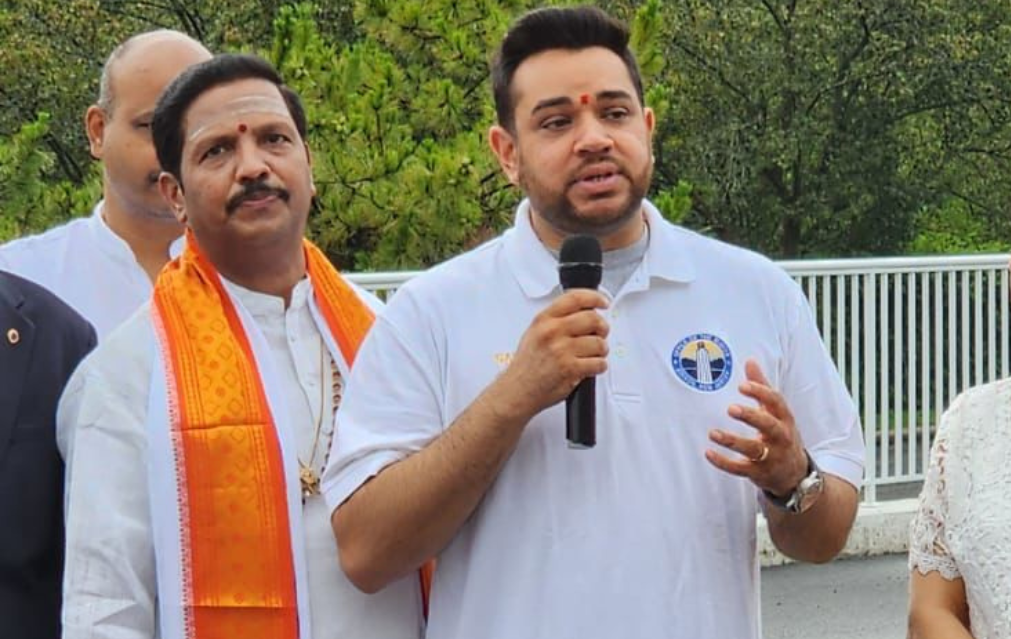 In honor of India's 77th Independence Day, Edison Mayor Sam Joshi unfurled the national flag amid chants of "Vande Mataram" and "Bharatmata Ki Jai!" during a ceremony led by Sri Raghusharma Sankaramanchi at the Saidatta Peetham Sri Shiva Vishnu Temple on Oak Tree Road in Edison, New Jersey.
Noting the large presence of Indians in Edison, the Mayor urged the foreign-born residents to do their part to boost India's international standing. He wished everyone a Happy Independence Day and said it was a very moving experience.
The founder of the temple, Sankaramanchi, said he was elated to celebrate this auspicious day, which commemorates the moment Mother India threw off the shackles of slavery and breathed the air of freedom, in the temple premises in accordance with cultural customs. He extended his wishes to all present on the occassion.
Councilman Ajay Patil, commissioner Emeritus Upendra Chivukula, former Indian army officers, Roja Sankaramanchi, UBLOOD founder Dr. Jagadish Yalamanchili team, A.P. BJP secretary Pathuri Naga Bhushanam, Krishna Reddy, Dr. Janardhan Bollu, Dr. Anish, Pradip Kothari community leader,  Rajeev Bhambri CEO New India Abroad and community leader, MATA president Srinivas Ganagoni, ATA Members Vilas Jambula, TFAS president Madhu Rachakulla, TTA Members, Deepika Gupta (Vastu), Sai Datta Peetham directors, volunteers, witnessed the celebrations.