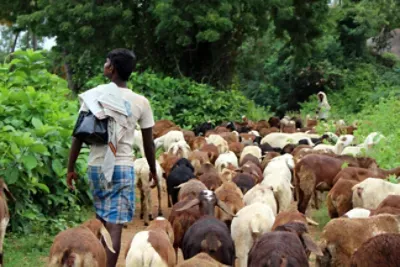 The World Bank recently authorized a US$82 million loan for the adoption of international best practices in animal health management to prevent, diagnose, and address endemic zoonotic, transboundary, and emerging infectious diseases in India. The amount will support the country's "One Health strategy" which acknowledges how closely related humans, animals, and their environments are.
"The new program will help reduce the risks of animal disease outbreaks by improving disease surveillance and veterinary services in the livestock and wildlife sectors," said Auguste Tano Kouame, the World Bank's Country Director for India. "At least 2.9 million livestock farmers will have increased access to improved animal health services in the participating states of Assam, Karnataka, Maharashtra, Odisha, and Madhya Pradesh."
Global outbreaks of animal diseases continue to be dangerous for public health systems and to be extremely expensive. These hazards are particularly severe because India has the largest population of animals in the world. For instance, the cost of foot and mouth disease to the nation as a whole is more than US$3.3 billion a year. The loan has an 11.5-year term with a 4.5-year grace period.
The Livestock Health and Disease Control Programme in India, which aims to manage zoonoses and animal illnesses, will get funding from the Animal Health System funding for One Health Programme. The programme will improve collaboration and data exchange with the human health sector through cutting-edge labs. Additionally, it will improve the food safety and quality of animal products, particularly in the cattle and wet markets.