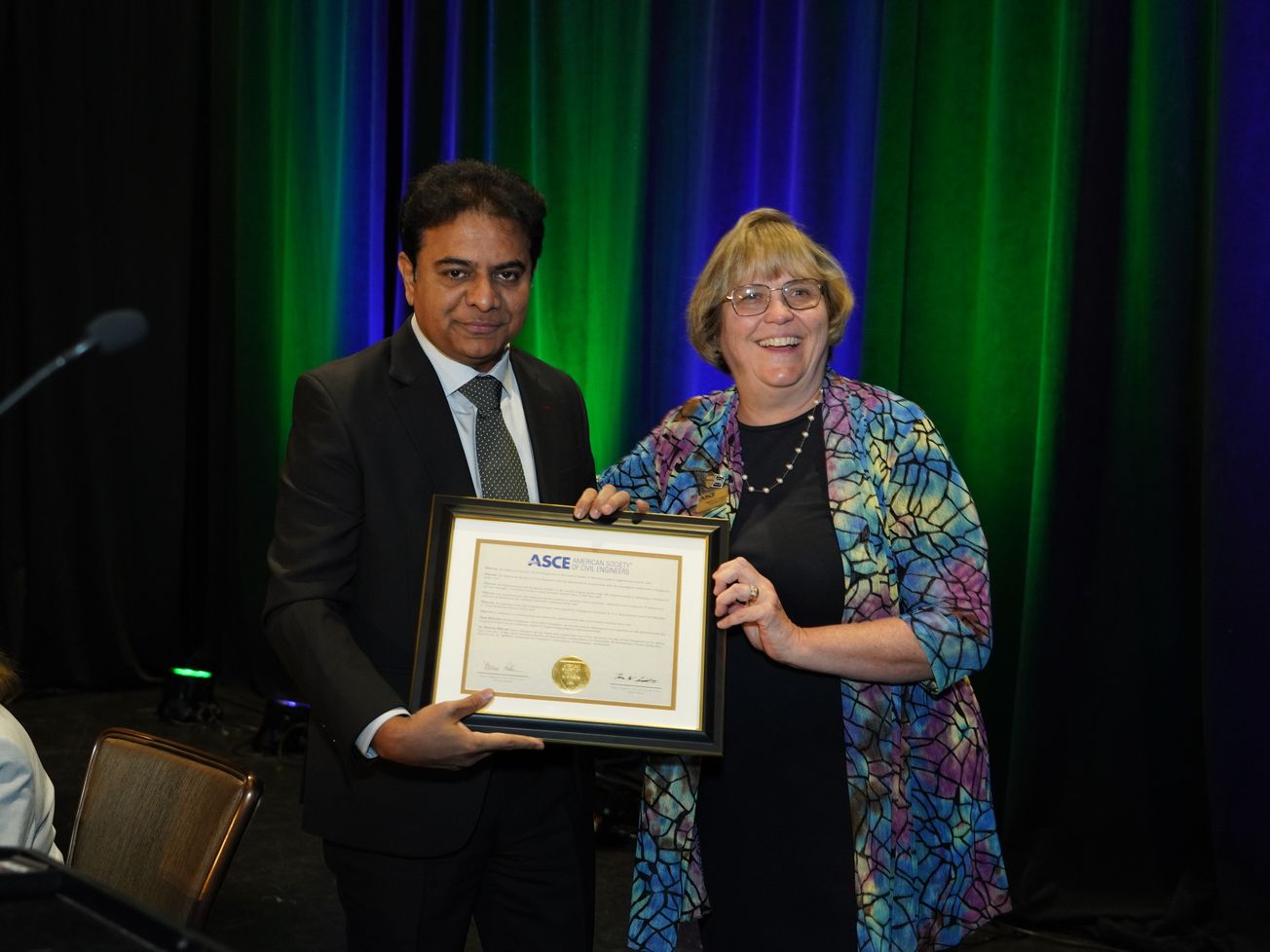 The Telangana government's two flagship programmes – Kaleshwaram, the world's largest multi-stage lift irrigation project, and Mission Bhagiratha, the ambitious drinking water project, have received appreciation from civil engineers in the USA. The former project received global recognition from the American Society of Civil Engineers (ASCE) at the World Environmental and Water Resources Congress held in Nevada, USA.
Situated on the Godavari River, Kaleshwaram was planned to divert the river water to irrigate drought prone areas in seven Districts of the Telangana State. It was inaugurated in 2019 by Telangana governor Narasimhan and chief ministers K.Chandrashekar Rao (Telangana), Fadnavis (Maharashtra) and Y.S.Jaganmohan Reddy (Andhra Pradesh).
During the event, Maria C Lehman, president, ASCE presented a proclamation that recognises the lift irrigation project as an 'Enduring Symbol of Engineering Progress and Partnership' to  the state's IT and Industries Minister KT Rama Rao.
The minister was invited to give a detailed presentation on the topic 'Many Benefits and Social Equity from Lifting a River: Story of the World's Largest Multi-stage Lift Irrigation Project' at the conference attended by over 1000 delegates from across the world.
Speaking on the occasion, KTR recounted the remarkable transformation of Telangana in the last nine years and underlined Telangana's story of resilience and transformation presenting an account of groundbreaking engineering achievements achieved by the youngest state of India.
"Telangana has successfully built the world's largest multi-stage lift irrigation project, Kaleshwaram, and completed the ambitious Mission Bhagiratha, providing piped drinking water to every home in the State. These remarkable projects were not only completed in record time but also with utmost efficiency and cost-effectiveness," the minister said.
KTR explained how a once arid region – in severe distress due to lack of irrigation water, insufficient drinking water, rampant migration, and farmer suicides – has transformed under the leadership of CM K Chandrashekar Rao (KCR).  
"The completion of the Kaleshwaram project in record time stands as a testament to his exceptional leadership and his ability to turn ambitious ideas into concrete achievements. Driven by a relentless passion for change, KCR embarked on a mission to solve Telangana's decades-old water problem," KTR maintained.
"This colossal engineering marvel was completed in a record span of just four years with an investment of US$11 billion. The amount of earth moved during its construction would fill the 101 Pyramids of Giza. The steel used in the project would be enough to build 66 Eiffel Towers, and the concrete poured would erect 53 Burj Khalifas," he added.
ASCE represents more than 1,50,000 members of the civil engineering profession in 177 countries. Founded in 1852, ASCE is America's oldest engineering society.