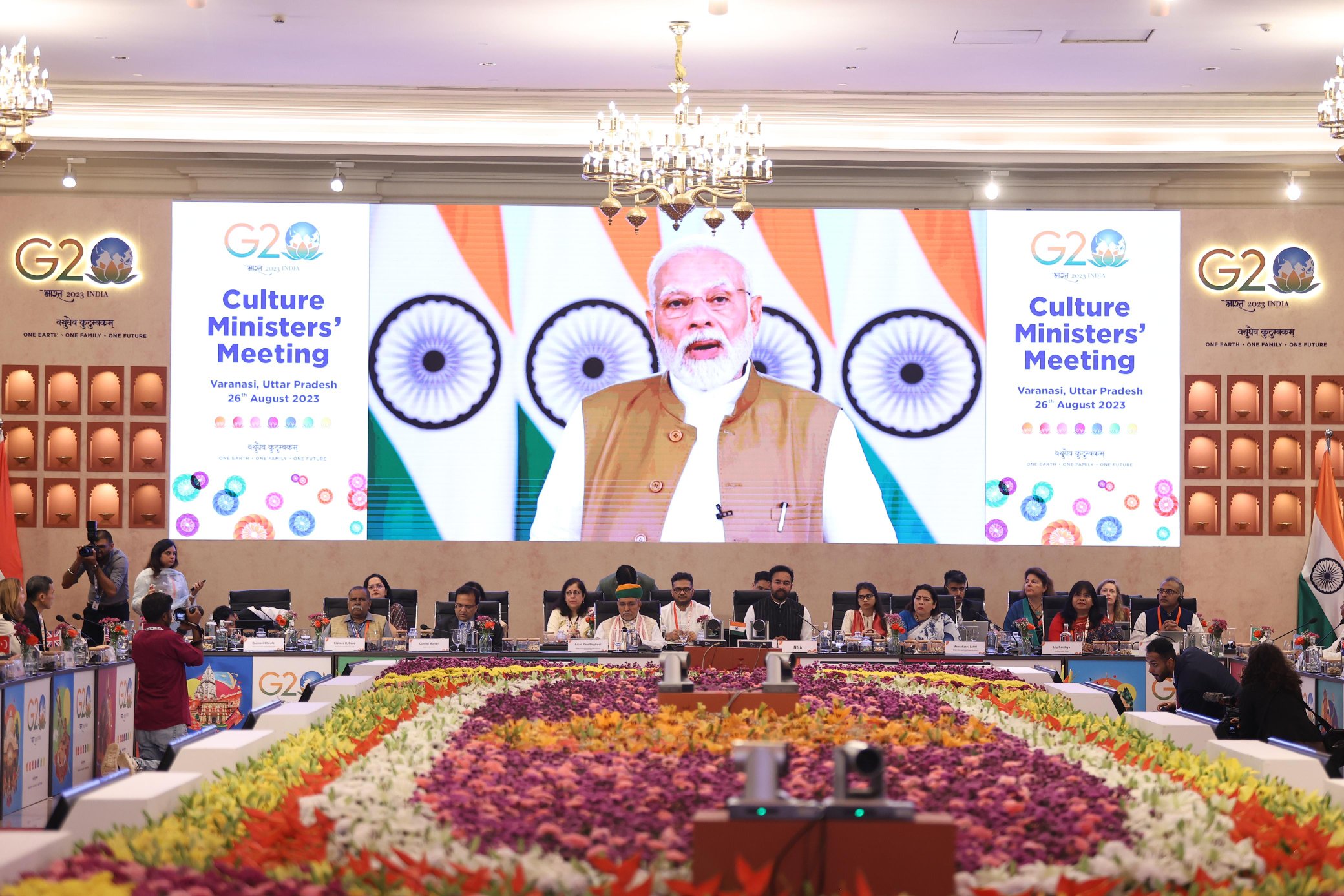 PM Narendra Modi addressing the G20 Culture Ministers' meeting / Image-X/@G20
Stressing that "Vasudhaiva Kutumbakam" captures the deep philosophy of  "world is one family" that transcends borders, languages and ideologies, Prime Minister, Narendra Modi, has said that India's Presidency of the G 20 has translated this concept into a call for a "human centric" progress.
"As One Earth, we are coming together to nurture our planet. As One Family, we support each other in the pursuit of growth. And we move together towards a shared future - One Future - which is an undeniable truth in these interconnected times" Modi said in his blog on India's G20 presidency.
The Prime Minister maintained that the post pandemic world has seen at least three important changes: a shift away from a GDP to a human centric world; importance of resilience and reliability in global supply chains; and boosting multilateralism through reforming global institutions. "Our G 20 Presidency has played the role of a catalyst in these shifts" Modi said.
The Prime Minister pointed out that since assuming the Presidency of G 20 in 2022, he had called for a "mindset shift" especially in the context of bringing into mainstream inputs and ideas from the Global South so as to be relevant to the critic al issues facing the international system such as climate change. 
"… our Presidency has not only seen the largest-ever participation from African countries but has also pushed for the inclusion of the African Union as a permanent member of the G20", Modi maintained going on to make the point that there is a need to move away from a restrictive attitude of what should not be done to a constructive attitude of what needs to be done on such issues as climate change. 
The Prime Minister also made the point that technology which is transformative needed to be made inclusive as in the past the benefits of technological advancements had not benefitted down the line but that India in the last few years had shown how technology could be leveraged to narrow, not widen, inequalities.
"That India is the fastest-growing large economy is no accident. Our simple, scalable and sustainable solutions have empowered the vulnerable and the marginalised to lead our development story. From space to sports, economy to entrepreneurship, Indian women have taken the lead in various sectors " he said adding that the doors of this experience have been opened to the world. 
"Our G20 Presidency strives to bridge divides, dismantle barriers, and sow seeds of collaboration that nourish a world where unity prevails over discord, where shared destiny eclipses isolation", the Prime Minister said.