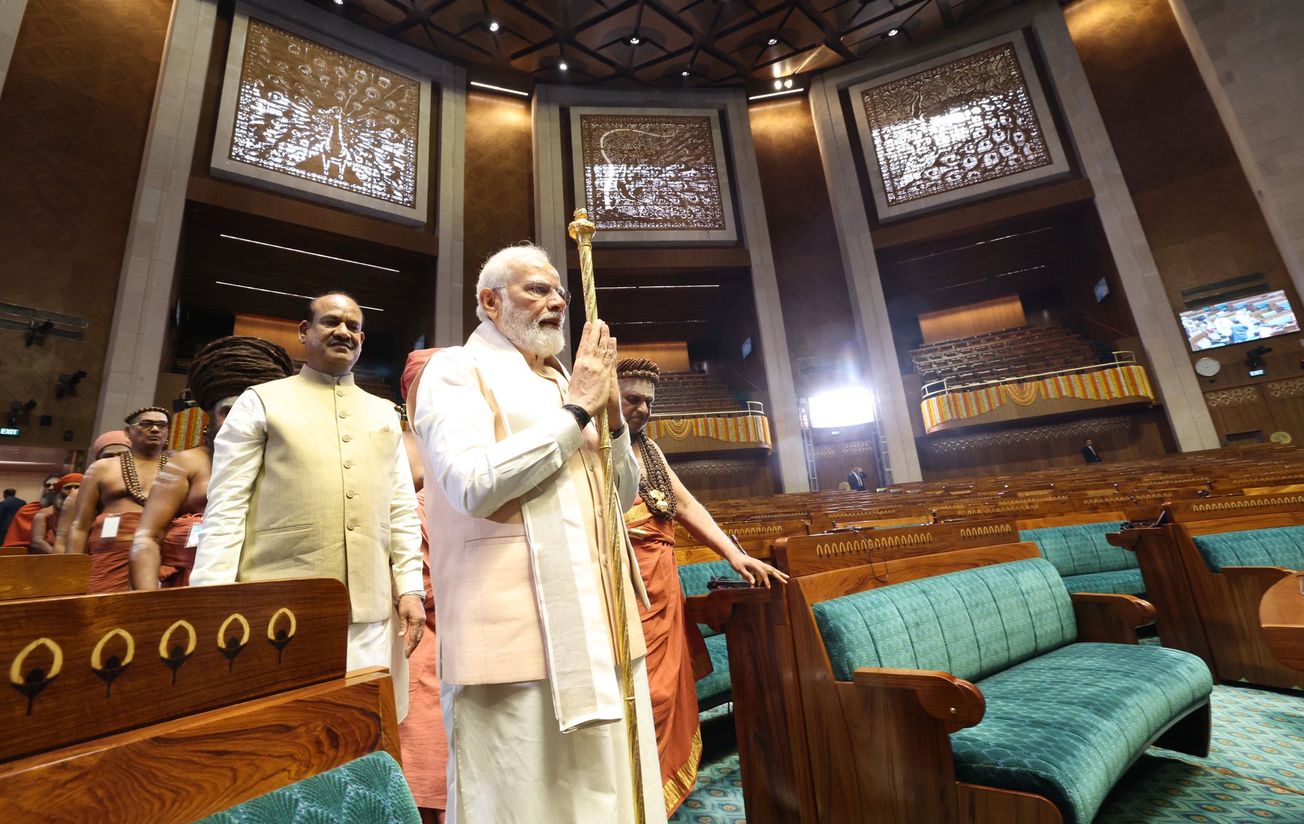 A new Parliament building was inaugurated by Prime Minister Narendra Modi on May 28, as a symbol of a new self-reliant India that has shed its colonial mindset and resumed its journey towards Amrit Kaal, which refers to the Golden era as the country reaches its 100th Independence Day.
"Amrit Kaal is a period of forging new dimensions of development while preserving our heritage. Today's India is leaving behind the mentality of slavery and embracing that ancient glory of art. This new Parliament Building is a living example of this endeavour", Modi said dedicating the building to the nation. The old parliament will be converted into a museum.
"As the new building of India's Parliament is inaugurated, our hearts and minds are filled with pride, hope and promise. May this iconic building be a cradle of empowerment, igniting dreams and nurturing them into reality. May it propel our great nation to new heights of progress," Modi said on Twitter.
The Prime Minister also installed the legendary Sengol, a symbol of the path of service duty and nation during the Chola Empire, in the Lok Sabha chamber with the guidance of the Adheenam saints who attended the ceremony. "Delighted to see Sengol being recognized at the inauguration of the new building of the Indian Parliament. Its august presence illustrates how heritage and progress merge beautifully, giving us added inspiration to fulfill people's aspirations," the PM tweeted.
Vummidi Ethiraj, 97, the maker of Sengol who was present on the occasion described the installation of the sacred scepter a 'very proud moment'.
The inauguration ceremony also coincided with the birth anniversary of prominent Hindu nationalist VD Savarkar. Modi, Speaker of the Lok Sabha Om Birla, a number of cabinet ministers and lawmakers paid floral tributes to him at the Central Hall of the former Parliament building.‌
Additionally, Modi also launched a new stamp and ₹75 coin on the occassion. He also facilitated certain construction workers who played a key role in the construction of the new parliament.