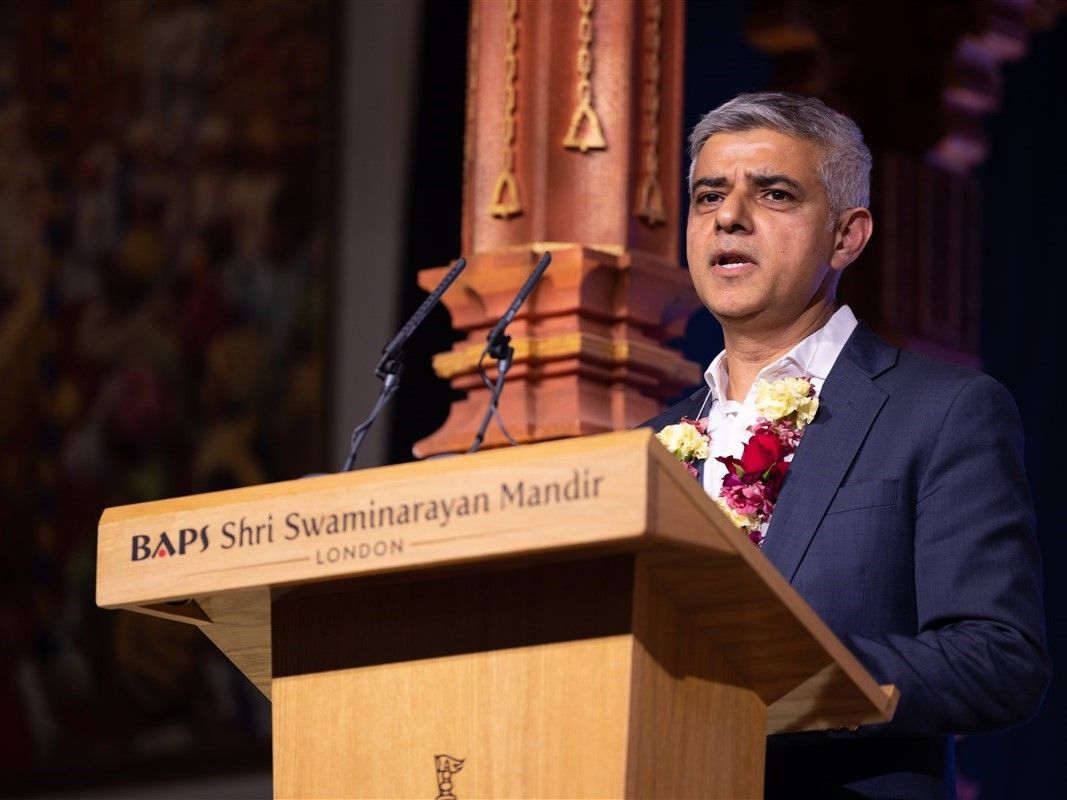 The Mayor of London, Sadiq Khan, recently paid a visit to the BAPS Shri Swaminarayan Mandir, also known as the 'Neasden Temple.' Greeted by Yogvivekdas Swami, the head swami for BAPS in the UK and Europe, along with the temple trustees, the Mayor's visit was marked by a private meeting with Mahant Swami Maharaj, the revered spiritual leader of the Mandir.
During their exchange, the Mayor expressed his gratitude to Swami Maharaj for the significant contributions made by the Neasden Temple. Seeking his blessings, the Mayor acknowledged the impact of the temple and its congregation on various aspects of society, including business, public service, and charity.
Addressing the evening assembly the Mayor highlighted the importance of his visit to show respect to Swami Maharaj and seek his blessings for the capital city. He acknowledged the Neasden Temple's influential community, uniting people of diverse faiths and even those without organized faith.
According to BAPS, Mayor Sadiq Khan's visit to the BAPS Shri Swaminarayan Mandir showcased his appreciation for the temple's contributions and his admiration for the teachings of Mahant Swami Maharaj. The event served as a reminder of the temple's vital role in promoting unity, compassion, and spiritual growth within the community.
The Mayor said: "His Holiness and I met earlier, and I was explaining the massive contribution you [Neasden Temple and its congregation] make to our City – whether it is in business, public service or charity. I explained to His Holiness that the ripples of good you do are felt by everybody – Hindus, Muslims, Sikhs, Jews, Christians, Buddhists, those members of an organised faith and those that aren't."
Dr Mayank Shah, a trustee at the Mandir, added, "We extend our gratitude to the Mayor for his visit to our Temple, his generous words and his enriching exchange with His Holiness Mahant Swami Maharaj."
Reflecting on the challenging years marked by the COVID-19 pandemic, the Mayor recognized the Neasden Temple and its congregation as a source of inspiration and a beacon of light during dark times. He urged them to continue exemplifying the teachings of Mahant Swami Maharaj, emphasizing the ongoing need for his blessings in the city and the country as a whole.