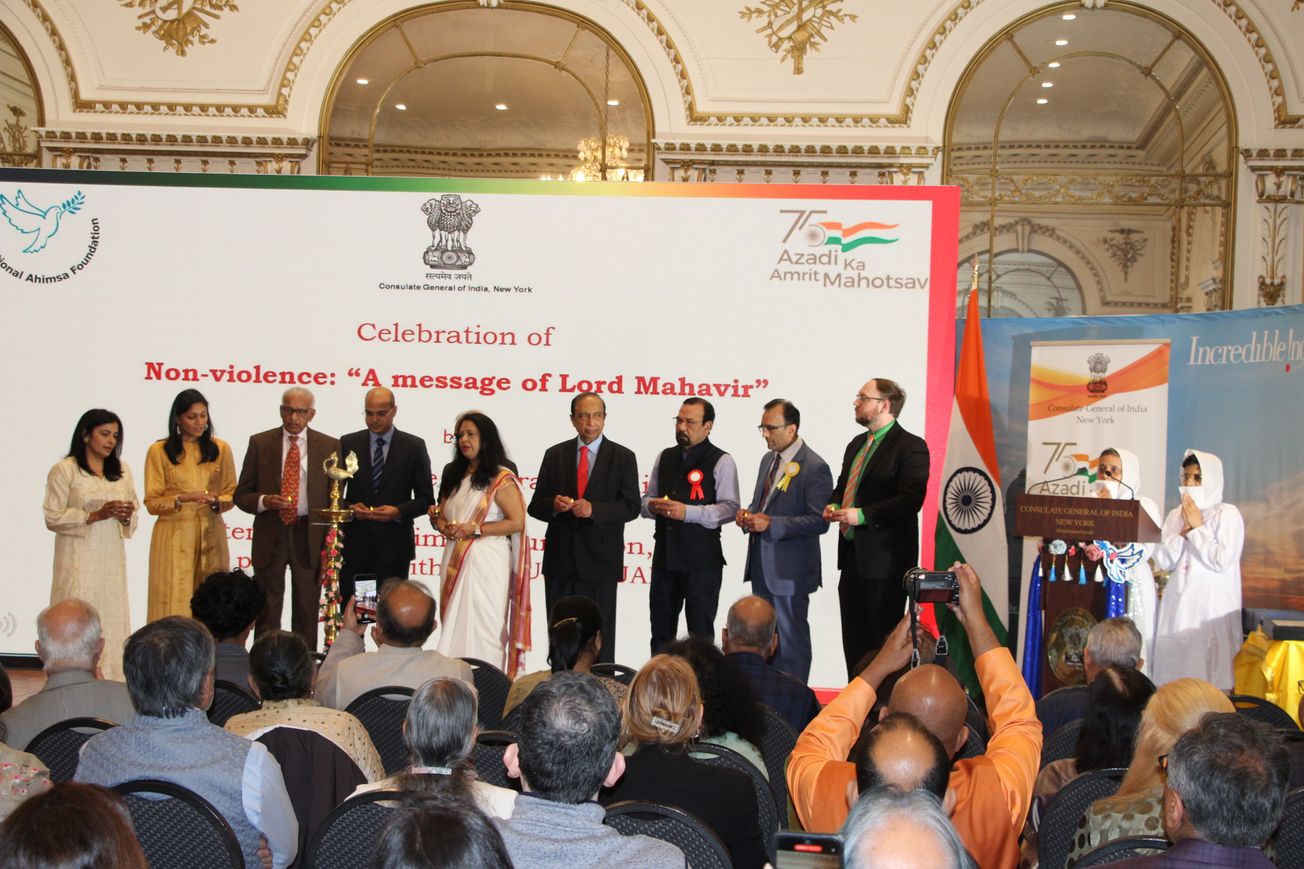 The Consulate General of India, NY and International Ahimsa Foundation Inc. in partnership with Jain International Trade Org - USA (JITO USA), and Federation of Jain Associations in NA (JAINA), recently hosted Mahavir Jayanti, Lord Mahavir's 2621st birth anniversary celebrations at the Consulate.
Organized as part of India's yearlong initiative: Azadi ka Amrit Mahotsav (75 years of India's independence), the event was attended by around 200 people. Government officials including Former Congresswoman Carolyn B. Maloney, NYS Assemblyman David Weprin's, Chief of Staff David Sprea, Miosotis Munoz, Deputy Commissioner of External affairs, NYC Mayor's Office of Immigration Affairs, and Democratic District Leader Gurdip Singh Narula graced the event. Congressman Gregory W. Meeks sent his best wishes via video message.
Deputy Consul General of India, Dr. Varun Jeph in his keynote address said, "Lets bring more of Lord Mahavir's message of Ahimsa & Satya (truthfulness) in our lives." Maloney emphasized the importance of the teachings of Lord Mahavir, especially that of "Live and Let Live" in todays time while Munoz, who was representing Mayor Eric Adams, mentioned that Mayor Adams truly believes in non-violence.
Esteemed Jain leaders, Samniji Nirdeshika Kamal Pragya and Samniji Karuna Pragya, enlightened the audience with their profound insights and teachings on non-violence. Continuing the same thought, Dr. Neeta Jain, founder and president of International Ahimsa Foundation Inc. informed that Lord Mahavir believed non-violence to be the "Supreme religion". "We should pass his teachings to our next generation so they can learn how to adopt the virtues of non violence  in their lives and make this world a better place to live in peace and harmony," she added.
During the event, the International Ahimsa Foundation honored four  individuals with the "Ahimsa Award" for their extraordinary contributions to society. Honorees included Dr. Ashok Shaha MD (chair Head and Neck Surgery/Oncology, Memorial Sloan Kettering Cancer Center), Arvind Vora (chair, JAINA Interfaith Committee & Shanti Fund of Long Island),  Sweta Jain (founder & president, Goshwara, Luxury Designer Jewelry), and Kavita Bafana (cofounder, Little Ustaads Music & Namaste Book Series).
Each honoree was felicitated and received a NYS Assembly Proclamation from Dr. Varun Jeph, board of director IAF, Dr. Ravi Goyal, Dr. Neeta Jain, vice president, Ahmisa Foundation, Amarjyoti Jain and chair Advisory Board, Rajeev Pandya.
"All four honorees are purveyors of peace and align with our mission to spread Lord Mahavir's message of 'Live and Let Live,'" Dr. Jain said. Dr. Ashok Shaha said in his acceptance speech that "Forgiveness is the most Important virtue in Life"
Appreciating the organizers for celebrating the occasion, honoree Arvind Vora said, " One can't expect better way to celebrate Mahaveera Jayanti than the confluence of dignified location of Indian Consulate, partner organizations like JITO & JAINA, stage decorations including Gandhi on a spinning wheel, participation by youths in dance and skit conveying messages of Mahavir and diverse audiences. Everything was wrapped up very efficiently."
Another honoree Sweta Jain also expressed her thoughts on being bestowed the honor, "Practicing Ahimsa in today's time is even more essential in order to promote peace and harmony in society and that is exactly what The International Ahimsa Foundation is striving to achieve for over a decade. And I feel extremely blessed to be honored by it at the Consulate on the auspicious occasion of Mahavir Jayanti along with JITO and JAINA."
Honoree Kavita Bafana stressed on the importance of keeping Jain culture alive, she sad "It's one small small trip to the mandir or a simple conversation, or as you saw today a small dance, that will keep out culture alive and our Jain Principals ever present through the next generation."
The event's highlight included a skit was acted by young Jains on "Color of Thoughts and their impact" directed by Surbhi Pandya and two mesmerizing performances on  "Mahavir Sa Mujko Banjana Hain" and "Garaj Garaj Aaj Megha"by Little Ustad Arts that highlighted Jain teachings.