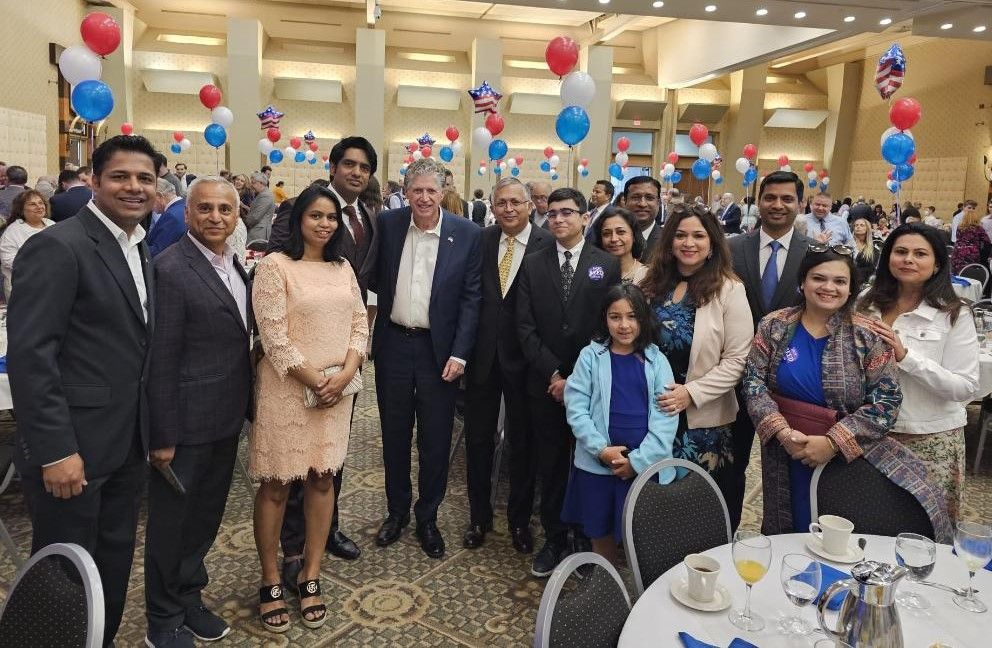 Earlier this month, Senator Jack Reed from Rhode Island, who also serves as a member of the Senate India Caucus met with 20 members of the Indo-American community at his  34th Annual Spring Family Breakfast at the Rhode Island Convention Center.
Federation of Indian Associations New England president, Abhishek Singh, and other FIA-New England executive committee members, including Jyoti Singh, Sanjay Gokhale, Rakesh Kavsari, Mukta Munjal, Amol Penshanwar, Jay Natarajanand, Archana Soni, attended the event.
In his interaction with the group, the Senator recalled his recent trip to India and meeting with Prime Minister Narendra Modi. He said the visit served as an opportunity to pursue stronger commercial and military ties between the US and India and added that he is looking forward to strong relations between the two countries.
During the event, the Indian Americans also met with US Congressmen from Rhode Island David Cicilline and Seth Magaziner, who serve as members of the Senate India Caucus. The group thanked them for their work and wished Congressmen Cicilline the best for taking charge of the Rhode Island Foundation. According to a news release, the Indo-American Community engaged with Rhode Island's Governor, Daniel McKee, and the Mayor of East Providence, Roberto (Bob) DaSilva, at the event.
Speaking of the importance of the meetings, FIA-NE president said they were an opportunity to inform the lawmakers of the Indian American community's social events and volunteer activities and maintain a positive image of the group.  "Our goals are building stronger relationship between the United States and India, as well as establishing Indian Americans as an integral part of the broader American community."
"These goals can't be achieved only by inviting the broader American community and leaders to Indian community events,such as Diwali, Holi or India Day celebrations, but we also need to actively participate and attend events of importance to the broader American community," vice president Gokhale added.
Other prominent members who were also present at the gathering included Professor Balram Singh, Dr. Amrut Patel, Dina Patel, Dr. Bhuren Patel,  Ashish Pathak and Dr. Sumita Gokhale. teenager Rishi Gokhale and 9-year-old Riana Sukhija represented the future generations of Indian Americans.
FIA-New England volunteer efforts include adopting highways, observing annual 9-11 remembrance, organizing food donation campaign, and delivering free Pizza to thank first responders during Covid pandemic.