India Week, hosted by global advisory firm EPG, highlighted India's economic significance, attracting over 900 participants, including influential leaders, and fostering partnerships for innovation, investment, and growth.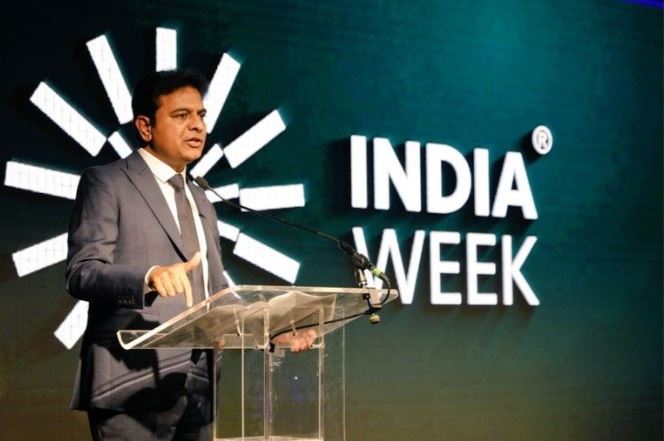 In an effort to facilitate global conversation on India's growing significance in the world economy, global advisory firm EPG, hosted India Week from May 7-14 in the United Kingdom.
The event was attended by over 900 participants from around the world, including 100 influential business and policy leaders from India, along with 800 participants representing the UK, Europe, and the US.
The week-long event began with a CEOs Golf Weekend in Leicestershire, followed by an educational conference and award ceremony that took place in Oxford. Rakkam Sangma, the Education Minister of Meghalaya, delivered the keynote address at the conference.
The London segment of the event, including the Ideas for India conference, a special dinner at the House of Commons, and a black-tie dinner with KT Rama Rao, the Minister for Municipal Administration & Urban Development, Industries, Commerce & IT from Telangana took place on May 11 and 12.
During the event, KTR expressed optimism and stated that by implementing the right strategies, India could achieve in less than 20 years what China accomplished in 30 years. The Minister emphasized the importance of empowering farmers and youth, fostering innovation, and positioning India as a leader in the fourth Industrial Revolution.
KTR also attracted investments to the state. He signed a Memorandum of Understanding (MoU) with Anthony McCarthy, the chief information officer of the London Stock Exchange Group, aiming to establish a Technology Centre of Excellence in Hyderabad. This initiative is expected to create around 1,000 new jobs, further enhancing Telangana's reputation as a thriving technology hub.
Former Governor of the Reserve Bank of India, Raghuram Rajan, who also attended the event said, "Our independent judiciary, our liberal democracy, these are critical advantages if we are to go down this manufacturing service-led growth path because this will enable us to earn the world's trust; it's intrinsically necessary,"
Pratik Dattani, managing director of EPG, said, "India is the world's largest democracy, most populous country and has the fastest economic growth rate amongst major economies. During India Week, we saw interest from governments from across India in engaging foreign investors to bring new ideas, innovation and investment into their cities."