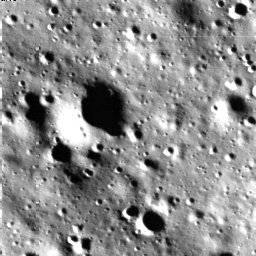 Image from the Lander Horizontal Velocity Camera taken during the descent. / ISRO
On August 23, India's third lunar mission, Chandrayaan-3, soft-landed on the moon, demonstrating end-to-end capability in safe landing and roving on the lunar surface. India is the fourth nation to set foot on the moon, after Russia, the United States, and China, but the recent accomplishment by the Indian Space Research Organisation (ISRO) is historic because it is the only nation to have set foot on the moon's south pole, which is a challenging arena full of deep trenches and craters.  
"Chandrayaan-3's triumph mirrors the aspirations and capabilities of 140 crore Indians. To new horizons and beyond! Proud moment for (India)," tweeted the country's Prime Minister Narendra Modi. Addressing the ISRO team in a virtual meeting he said,"India has reached the South Pole of the Moon, where no country in the world could reach to date with the dedication and talent of our scientists." 
He insisted that the victory belonged to people from every country and region, not just India. "India's successful moon mission is not India's alone. This is a year in which the world is witnessing India's G-20 presidency. Our approach of 'One Earth, One Family, One Future' is resonating across the globe. This human-centric approach that we represent has been welcomed universally. Our moon mission is also based on the same human-centric approach. Therefore, this success belongs to all of humanity. And it will help moon missions by other countries in the future".
As Chandrayaan-3 is a follow-up to the unsuccessful mission Chandrayaan-2, PM Modi said that the recent success signifies how "victory is achieved from the lessons of defeat." The PM also touched upon ISRO's aspirations to launch missions to Venus during the speech and concluded by wishing success to the scientists for future endeavours. 
President of India, Droupadi Murmu also conveyed her congratulatory message to ISRO and everyone associated with Chandrayaan-3 mission. She said, "There are days when history is made. Today, with the successful moon landing of the Chandrayaan-3 mission, our scientists have not only made history, but also remade the idea of geography! It is truly a momentous occasion, the kind of event that happens once in a lifetime, making all Indians proud. I congratulate ISRO and everybody involved in this mission, and wish them greater accomplishments ahead."